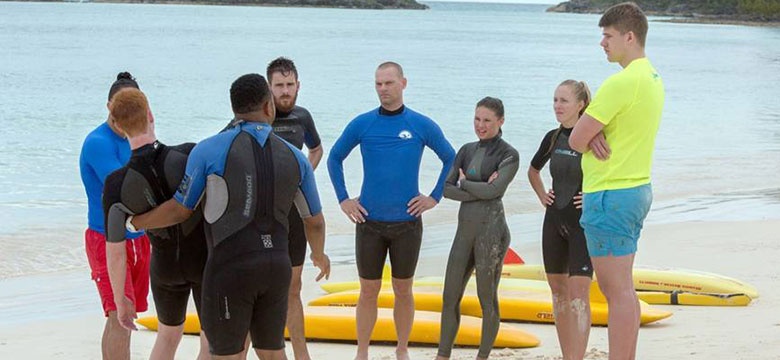 Please find the photo taken last week during 'Day Two' of a three-day intense training course for the Department of Parks' lifeguards. The lifeguards pictured are returning lifeguards meaning that they are already qualified and have worked with the Department in previous years.
Considered "Professional Rescuers", lifeguards must stay up to date with current practices hence annual training is mandatory. Lifeguards must carry out core lifesaving skills and physical fitness assessments before returning to service each season. Lifeguards are trained and assessed by certified and current Royal Life Saving Society UK Trainers/Assessors.
In comparison, new Lifeguards must go through a 56hour (week-long) training course.
Throughout the 6-month Lifeguard Season, Lifeguards will also undergo monthly physical assessments.
 The main duties of lifeguards in Bermuda include:
• Observing aquatic activities in designated patrolled area in order to prevent emergency situations.
• Responding to both land and aquatic emergencies.
• Providing immediate first aid and emergency care to injured or unwell patrons.
• Informing and educating the public on beach/water safety through formal and informal contacts.
• Enforcing the 1988 Bermuda National Parks Regulations.