Thursday, February 6th, 2020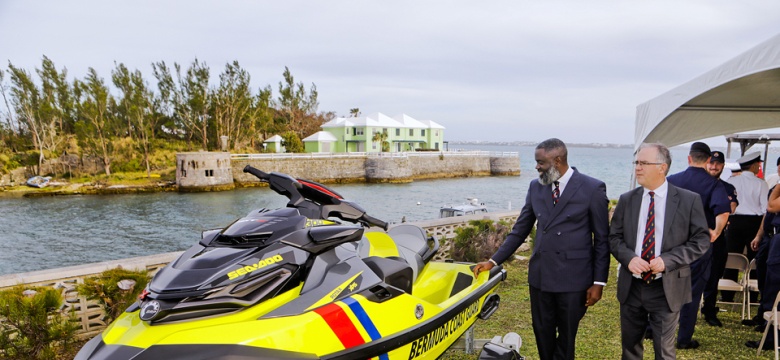 Statement delivered by Governor John Rankin
I am delighted to be here at Watford House for the launch of the Bermuda Coast Guard. 

Ensuring the safety and security of Bermuda's waters is a key part of my responsibilities as Governor, working together with the Royal Bermuda Regiment, the Bermuda Police Service and all of the island's other maritime agencies and, of course, operating in close conjunction with the Minister of National Security and his team.

The aim of establishing a Bermuda Coast Guard is of long standing and I am pleased that after a great deal of hard work we have got there.

In the year ahead members of the Royal Bermuda Regiment and members of the Bermuda Police Service will operate together as members of the Bermuda Coast Guard.  Their task will be to provide a 24-hour on-duty capability, helping to ensure security within Bermuda's territorial waters, helping to ensure safety of all of those out on the water, including during boating season, providing assistance to those who may get into difficulties, and also responding to any accidents or oil spills or other pollution incidents that may occur, in order to protect this island's environment. 

The Coast Guard Unit will also provide support and assistance during international sailing events, including the upcoming Newport to Bermuda Race, and will lend support to the Sea Cadets and the Endeavour Programme in helping Bermuda's young people to develop their maritime skills and future opportunities, including I hope within the Coast Guard Unit.

I am grateful to all those who have worked to bring the Bermuda Coast Guard into existence, including the members of the Royal Bermuda Regiment and the Bermuda Police Service.  I am also grateful to the assistance provided by colleagues from the United Kingdom and would particularly acknowledge the work of Commander Marcus Jacques from the Royal Navy who is with us today and who I know will continue to offer support as the Coast Guard further develops its skills and capabilities. 

We are blessed to live on this island surrounded by our beautiful waters.  The Bermuda Coast Guard will serve to protect and preserve those waters, helping to maintain the island's compliance with international maritime regulations and helping to ensure that people in Bermuda, and those visiting Bermuda, can continue to travel through our waters safely.

I pledge myself to continue to support the Coast Guard in its work.  And most of all I thank all of the men and women who will serve in the Coast Guard. I wish them every success for the future.