Wednesday, January 31, 2018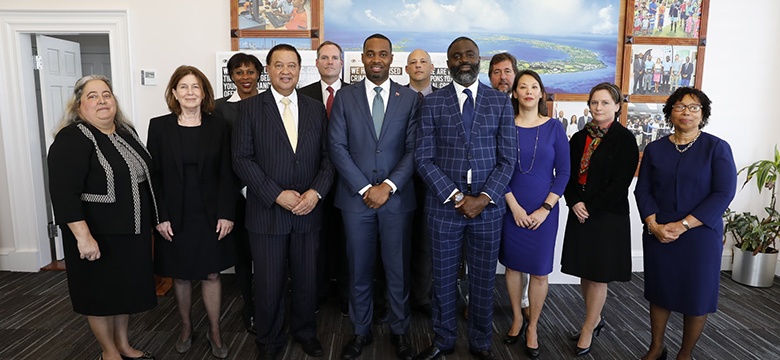 A public awareness campaign calling on Bermuda residents to join a national effort to combat global financial crime was announced today by Bermuda Premier and Finance Minister, the Hon. David Burt, JP, MP.
The "Just Good Business" campaign (http://www.goodbusiness.bm) highlights efforts underway by government, responsible authorities, and Bermuda-based international and local businesses to ensure the island meets the highest standards for anti-money-laundering (AML) and anti-terrorist-financing (ATF).
"Reinforcing a strong framework to combat money laundering and terrorist financing is of critical importance to Bermuda's economic future," the Premier told a press conference at the Cabinet Office today. "We encourage everyone to join this effort to retain Bermuda's outstanding reputation."
Premier Burt was joined by representatives of the National Anti-Money Laundering Committee (NAMLC), Bermuda Monetary Authority (BMA), and Bermuda Business Development Agency (BDA), as well as from numerous major industry groups supporting the campaign. These included the Association of Bermuda International Companies (ABIC), the Association of Bermuda Insurers & Reinsurers (ABIR), the Bermuda Bankers Association (BBA), the Bermuda International Long Term Insurers & Reinsurers (BILTIR), Bermuda Insurance Management Association (BIMA), and Bermuda Chamber of Commerce.
"A major part of Bermuda's success as an international financial centre can be attributed to the strong commitment at all levels in the public and private sectors to ensuring our jurisdiction's quality reputation is protected," said NAMLC Chair Cheryl-Ann Lister. "This campaign is itself an example of that collaborative partnership."
As well as educating on the importance of AML/ATF measures, the campaign asks businesses and individuals to fulfil their legal obligation to complete and submit documentation required by financial entities such as local banks to satisfy international standards.
"For more than a decade, the BMA has focused on reinforcing its AML and ATF framework," said BMA CEO Jeremy Cox. "We believe it is essential for Bermuda to have a world-class AML/ATF regime in order to maintain its reputation as a leading international financial services centre."
Finally, the campaign is a call to action: individuals and organisations are encouraged to find out what their legal obligations are and to report suspicious financial activity. Authorities depend on this information, known as SARs, or suspicious activity reports. To file a SAR, in confidence, please contact the Financial Intelligence Agency (FIA) at 441 292-3422 or https://www.fia.bm.
The campaign aims to raise public awareness about AML/ATF during a year when Bermuda will be assessed by the Caribbean Financial Action Task Force (CFATF) for its effectiveness in preventing and enforcing measures to combat financial crime. A team of CFATF assessors will visit the island to meet with NAMLC agencies and the private sector to gather data in September.
The wide-ranging campaign, a public-private sector developed and funded initiative, will run for the remainder of the year and includes posters, advertisements in the newspaper, on radio, buses, and social media, as well as a video, pens and stickers. The voice of the campaign on the radio and video is Bermudian musician Mr. John Woolridge of Just Platinum.
"Bermuda has long been a centre of excellence for compliance and transparency—a positive differentiator," said BDA CEO Ross Webber. "We will continue to work collaboratively to maintain that world-class reputation."
Premier Burt thanked industry representatives for supporting the initiative, "We are especially grateful to the teams at the BDA, the BMA and ABIC for driving this initiative, to international business associations and the corporate sector for supporting it. You are working to demonstrate that the way we do business in Bermuda is through transparency, compliance and cooperation.
"As I have stated on many occasions, Bermuda is not a jurisdiction in which to hide money and we are determined to play our part in this critical and global fight. I therefore encourage you to also do what you can to ensure that Bermuda remains a good place to do good business."