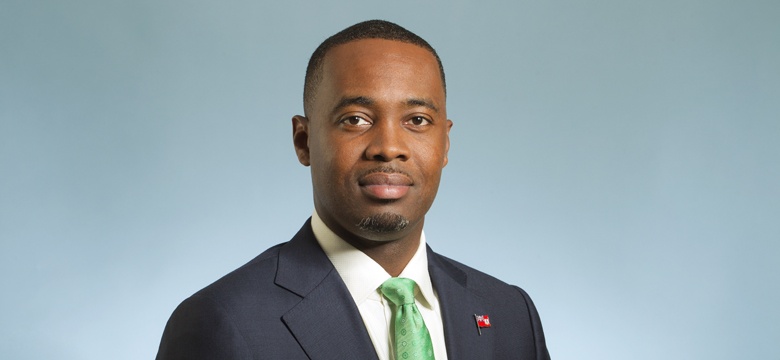 Ministerial Statement by the Premier and Minister of Finance, The Hon. David Burt, JP, MP
Thank you, Mr Speaker.
Mr Speaker, I rise today to inform this Honourable House about my visit to the United Kingdom, next week to attend the annual Joint Ministerial Council (JMC) at the invitation of Lord Ahmad of Wimbledon, the Minister of State for the Commonwealth and the United Nations at the Foreign & Commonwealth Office.
Mr. Speaker, The JMC is the highest forum for political dialogue and consultation between United Kingdom and elected leaders and representatives of the British Overseas Territories for the purposes of providing leadership and promoting cooperation in areas of mutual interest.
Mr Speaker, I look forward to engaging with Her Majesty's Government and representing Bermuda and all British Overseas Territory Governments as the President of the United Kingdom Overseas Territories Association, Political Council. I will be accompanied by Ms Kimberley Durrant, UK Representative within the Government of Bermuda London Office.
Mr Speaker, The priorities for this year will highlight issues such as upholding our right to self-determination as enshrined under Article 73 of the United Nations Charter and that this continues to apply to the people of the overseas territories, as the UK's international obligation.
 Other issues to be discussed will include working in partnership with all governments to support the disaster recovery of those territories sadly impacted by recent hurricanes. We applaud the UK's recent announcement of an additional £15m to support programmes in reconstructing those territories for their viable economic future. As territories we will be further encouraging the UK Government to provide all support to these territories where it is reasonable.
This Honourable House will recall recently I met with Leaders of those territories impacted by Hurricanes Irma and Maria at a meeting in Miami. As leaders from the Caribbean and Bermuda we acknowledged that in any natural disaster, there are lessons to be learned. We look forward to outlining a plan for regional disaster management cooperation and seeking assistance from the UK in the areas of:
Recovery

Re-Construction and redevelopment

Resilience Building; and

Preparedness and Mitigation
 
Finally Mr. Speaker, we will also discuss matters of Tax and Transparency which continues to be a shared priority for us all. We will update the UK Government on the measures taken by this Government to uphold our commitment in implementing the arrangements under the Exchange of Notes to allow law enforcement to exchange beneficial ownership information. The UK Government continues to uphold the UK Anti-Corruption strategy as a priority under the Cabinet Office and this Government will continue to ensure that we meet our obligations under the United Nations Convention Against Corruption.
Mr Speaker, I also look forward to having dialogue on areas of Health, Human Rights, Child Safeguarding, Environment and Climate Change. These areas affect vulnerable Small Island States and Bermuda has much to offer in sharing our areas of expertise at the same time learning from others who have made substantial achievement in programmes within these areas.
Mr Speaker, While in London I will be attending various Parliamentary meetings and events including a meeting with Prime Minister Theresa May, within the margins of the JMC.
On Tuesday, 28th November, I will be opening the Bermuda Forum organised by the Bermuda Business Development Agency (BDA) representing more than two-dozen Bermuda executives participating in a multi-industry forum being held in London next week to showcase the breadth of expertise and advantages offered by the island's global business market. It will feature top regulatory and industry leaders in moderated discussion panels covering re/insurance, captive insurance, insurance-linked securities, asset management, family offices, and trust and private-client business.
Mr. Speaker, I am delighted to be hosting a networking reception for Bermudians living in the United Kingdom on Monday 27th November at 7:30 pm at the Clubhouse, 8 St James's Square, London. The annual event is organised by the Government of Bermuda London Office. This year we have extended an invitation to key industry stakeholders who will be in London attending the Bermuda Business Development event. This event provides an opportunity for those studying and recently graduated in the United Kingdom to network with key executives and influencers throughout the Bermuda business community.
Mr. Speaker, I acknowledge there is a growing population of Bermudians who relocated to the UK in areas outside of London. It is my intention that next year there will be a similar event in the north of England to accommodate Bermudians who do not live in or around London.  
We had hoped to host a second event outside of London during this visit. However due to pressing matters specific to Bermuda's reputation in the European Union and the numerous meetings already lined up, we were unable to add it to the schedule.
Mr Speaker, Last month I informed this Honourable House of my visit to mainland Europe as a result of the uncertainty in Brussels and across the EU. This uncertainty requires  Bermuda to engage directly at a political level to educate lawmakers in key member states of the European Union about Bermuda's leadership in international tax transparency and compliance. Given this continued and urgent need, while abroad, I will also  travel to Paris & Berlin for meetings with officials who are responsible for tax matters in these countries.
During those meetings I will reiterate that Bermuda is a leader global tax transparency and that we are fully compliant with our international obligations.
Thank you Mr. Speaker.