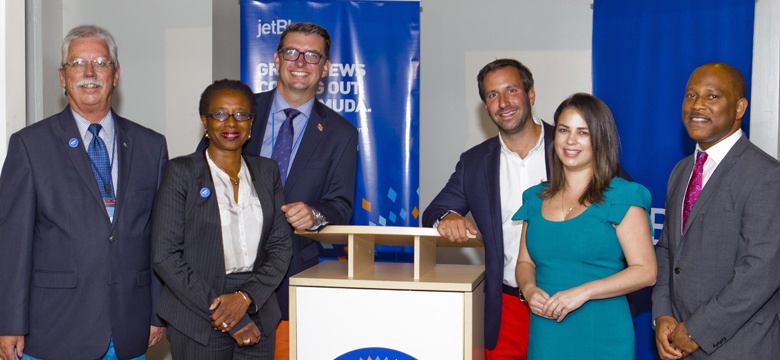 Good afternoon Ms Cortes, colleagues from Skyport, the BTA and of course of course the rest of the Jet Blue family.
Welcome to Bermuda on a truly magnificent day!
I am honored to be here to welcome this Jet Blue flight from Boston. This marks the beginning of a year round service between Boston and Bermuda which for the past ten years has been seasonal.  Over the past few years, following the success and popularity of the Boston-Bermuda flight, JetBlue has made incremental additions to their flight schedule for this route…starting the season a week earlier and pushing back the end of the season by a week or two, each year.
Today, however, represents the biggest development in our joined history since Jet Blue began flying to Bermuda and it is fitting that as Bermuda continues to grow as a visitor destination, JetBlue will grow with us.
This year alone, JetBlue seat capacity from Boston will grow 17 percent – meaning more Bostonians and people all over New England can pop over to Bermuda on a 2-hour flight for a long weekend or even a short weekend
In addition this year alone, JetBlue seat capacity from New York/JFK will also grow 17 percent –meaning more New Yorkers and New Jersians too can pop over to Bermuda on a 90-miunte flight for a long weekend or a short weekend
Out of JFK, we now have two daily flights operating to Bermuda through the summer – that means twice as many opportunities to travel our way. One of those flights will continue operating post-October and keep flying through the winter.
Beginning today, out of Boston, the JetBlue experience never ends. JetBlue will now fly between Boston and Bermuda every month of the year and we're delighted about doing our part to save New Englanders from the harshness of their winter.
This partnership with Jet Blue is yet another indication of the return of confidence in Bermuda as a tourism destination and is a result of a hard work of the Ministry, the Department of Airport Operations – now Skyport – which is headed by Aaron Adderley, and of course the outstanding market efforts led by the BTA over the last few years. Increasing air arrival numbers speak for themselves and I am confident that things will only continue to get better and that we are truly in a renaissance period for Bermuda's tourism product.
The partnership between the Ministry, Skyport, BTA and or friends at Jet Blue will ensure that my confidence is well placed.
Thank you all for being here today – and again on behalf of Bermuda we welcome Jet Blue.