Wednesday, December 21, 2016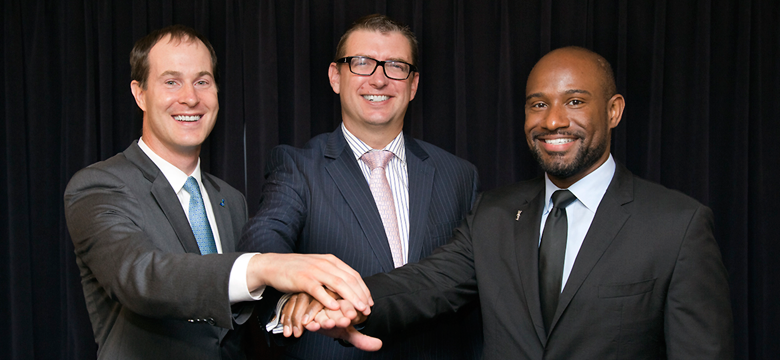 Today I have more good news for the people of Bermuda, following last week's announcement regarding the ITU world series.
I am joined by Dave Clark, Vice President of Network Planning for JetBlue, who has flown in especially to help me share the good news, as well as The Bermuda Tourism Authority's Director of Public and Stakeholder Relations Glenn Jones who will also address you shortly...
Starting in May (May 18), for the first time ever, JetBlue will begin a year-round service between Boston and Bermuda - a flight which has been seasonal (May to October) for just under 10 years.
As a further perk, JetBlue will be using their 150-seat 'Airbus 320' aircraft for this route, replacing the 'Embraer 190' which has only 100 seats.
This will allow us more seat capacity year round. So where we had 100 seats a day for six months, now we will have 150 seats a day for 12 months.
When the Boston service was secured almost ten years ago, the objective was to eventually get a year-round daily service...and now that day has come.
Over the past few years, following the success and popularity of the Boston-Bermuda flight,  JetBlue has made incremental additions to their flight schedule for this route...starting the season a week earlier and pushing back the end of the season by a week or two each year.
This announcement today represents their belief in Bermuda; their commitment to Bermuda.
The Ministry of Tourism, Transport and Municipalities has, as one of their tourism objectives, a desire to lengthen the tourism season. Having a year round presence out of Boston is another step towards being able to realise that objective.
Now, for even more good news...
JetBlue has offered one daily flight between Bermuda and New York's JFK Airport during the summer using its Airbus 320 and had been, during the winter months, operating one flight using its 100-seat Embraer 190.
Now - JetBlue has replaced the 100-seat aircraft with the 150-seat Airbus 320 year round out of JFK.    And in addition, it will, for the first time in several years, introduce a second summer flight that will arrive in and depart from Bermuda in the early afternoon. The one flight that will operate year round will depart JFK in the early evening arriving in Bermuda at 9:55pm.  The return flight will depart Bermuda at 8:30am arriving in JFK at 9:53am.  This new schedule will open up many more destinations for both residents and visitors to connect to and from.
The increased JFK and Boston services will provide even more options for our East Coast visitors to frequent our shores and help meet increasing demand for airplane seats...Year-to-date, vacation air visitors from the United States were up 20 percent compared with 2015.
This announcement today has been made possible through the efforts of a joint working group consisting of persons from the BTA and the Ministry of Tourism, Transport and Municipalities. The arrangements were finalized last month following a meeting between myself, General Manager of Airport Operations Aaron Adderley and JetBlue in New York City. 
The Ministry and the BTA have been working together closely to approach airlines collectively, in a joint effort, with the common goal of expanding Bermuda's airlift; that relationship is bearing fruit as indicated by this announcement.
I should also mention that JetBlue will offer an introductory fare of $49 from JFK and $79 from Boston.
This has been a very positive year for tourism in Bermuda and I am thrilled for 2016 to conclude on such an encouraging note.
Happy Holidays Bermuda.
Year-Round Daily Schedule Between New York (JFK) and Bermuda (BDA) Starting May 18, 2017
| | |
| --- | --- |
| JFK – BDA Flight #2231 | BDA – JFK Flight #2232 |
| 6:23 p.m. – 9:55 p.m. | 8:30 a.m. – 9:53 a.m. |
Seasonal Summer Schedule Between New York (JFK) and Bermuda (BDA) Starting May 18, 2017 – October 2017
| | |
| --- | --- |
| JFK – BDA Flight #1731 | BDA – JFK Flight #1732 |
| 8:00 a.m. – 11:21 a.m. | 12:18 p.m. – 1:45 p.m. |
Year-Round Daily Schedule Between Boston (BOS) and Bermuda (BDA) Starting May 18, 2017
| | |
| --- | --- |
| BOS – BDA Flight #203 | BDA – BOS Flight #204 |
| 10:55 a.m. – 2:02 p.m. | 3:00 p.m. – 4:22 p.m. |
JetBlue 2017 Inventory Announcement
JetBlue Boosts Service In Bermuda With Plans To Operate Three Daily Roundtrips Between Northeast Focus Cities