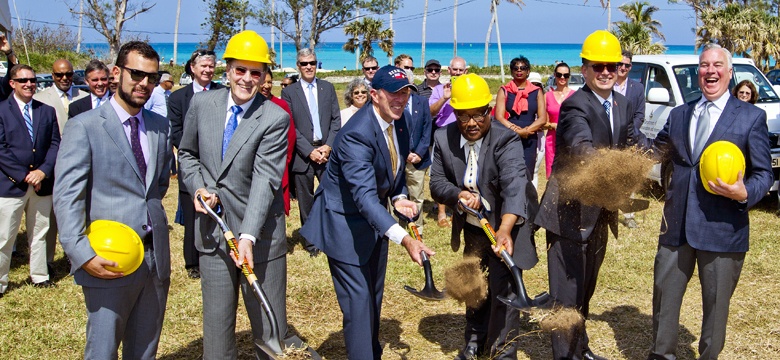 I am thrilled to be here today to participate in the beginning of this major project that will benefit the Town of St. George, and Bermuda as a whole.
There is no denying that there is a tourism renaissance alive and well in Bermuda. And it is evidenced here, by the promise of a first class resort for a first class destination, and, a revitalization of the old town. It includes the construction of a high quality hotel, together with phase one of the condominiums.
Future phases will include a spa to be located at Fort Albert - a useful upgrade without disturbing the aesthetics and charm of the historic fort – together with additional condominiums and golf course improvements. This project also promises more of what Bermuda needs --- jobs in the construction phase and jobs in the future property's operation.
It is heartening to be part of the team to bring this project to fruition and I'm proud of the fact that Bermuda is able to attract products of this quality….and proud too, that a new generation of visitors will get to comingle their experiences with Bermudians through shared access to St. Catharine's Beach.
This is the second major construction project I've had the pleasure of welcoming to the parish over the last few days, with the ground breaking last week for the new airport terminal building.
After decades of decreased economic activity here in the east end, this Government is proud to incentivise projects that finally bring St. Georgians much needed relief.
In fact, together with the cruise ships we aim to position in St. George's Harbour over the next few years, and more cruise ship passengers brought in by tender from the West End, we expect all of this to add significantly to the commercial and employment life of this part of the island.
And for our neighbours in the east end, it is about time!
I walk through this area almost every week, often annoyed at the abandoned hotel property on the hill. So, I am truly looking forward to seeing this development become a reality. 
I've come to know Miguel and his team and how committed they are to St. George's and Bermuda…. and how determined they are to see the creation of a first class resort.
After 30-years-of-waiting, the people of St. George's can see this as proof of new development. It has taken hard work and tenacity by all parties to get the project where we are today. There are too many people to mention them all, but I would like to expressly thank:
David Dodwell and Ron Sutherland for their efforts and former Minister Crockwell, who started this process. Also, I would like to express gratitude to the Junior Minister of Tourism Kenny Bascome JP MP who we shall hear from shortly, St. George's Mayor Quinell Francis and former Mayor Rothwell, for their continued belief in this location for a first class resort.
Thanks to my former PS, Mr. Rochester, the Ministry of Public Works and Minister Cannonier, the BTA, and also the staff at the Department of Planning for taking this project through the process and getting the requisite approvals.
The principals of Hotel Bermuda Holdings Ltd are experienced hotel developers and partnered here with leading hoteliers in the Marriott Group.
I'm happy to welcome Tim Sheldon of Marriott International and Miguel Purroy of Hotel Bermuda Holdings Ltd.  Miguel and Tim - I wish the partnership between your companies the best of luck. 
Thanks to you Miguel, and Walter and Roberto Stipa, and of course the St Regis, for your confidence in Bermuda, our tourism product and St George's.
We know that hotels built by these developers in other jurisdictions are first class, brick and mortar proof they are at the top of their game.
May this be the jewel-in-the-crown of such resorts and a part of the continued renaissance and rebirth for St. George's!