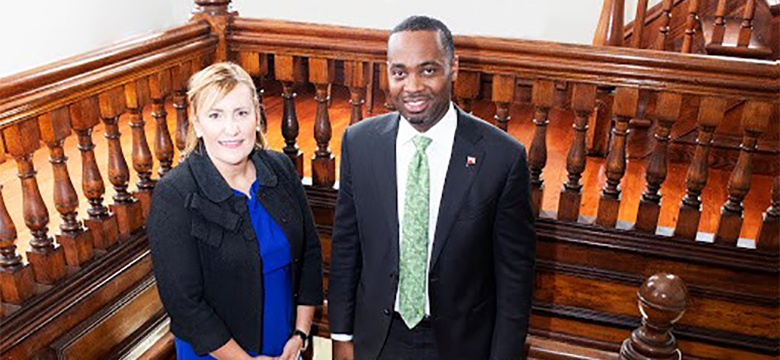 Andrea Moniz DeSouza, the Honorary Consul of Portugal, was at the House of Assembly this morning to witness the announcement of a new 2019 holiday in Bermuda, in honour of the Portuguese community.
Pictured here with Premier and Finance Minister the Hon. E. David Burt JP MP just outside the Lower House chamber, Mrs Moniz DeSouza became Bermuda's first Honorary Portuguese Consul in several years when she took up the post in 2013.
This morning she was acknowledged by the Premier as being in the public gallery when he made the historic announcement that declared 4th November 2019 a public holiday to mark the 170th Anniversary of the arrival of the first Portuguese immigrants in Bermuda.
It provides Bermuda with an additional long weekend next year.
Premier Burt later commented, "Bermuda has many different cultural heritages and we should celebrate them. This is a first step in making sure we include various members of our community who have made important contributions. We want to be a government for everyone.
"We recognise there are divisions in our community and the only way to heal those divisions is by coming together and recognising the full history of our cultures and how they worked together, so that understanding can be passed on to future generations."
Mrs. Moniz DeSouza said, "It was an absolute honour to be contacted by the Government to let us know that this was in the making for our community.
"We have been seeking to be recognised for so long for our contributions, and that we are a part of Bermuda. This will mean so much to our community. We are very excited."