Wednesday, May 11th, 2016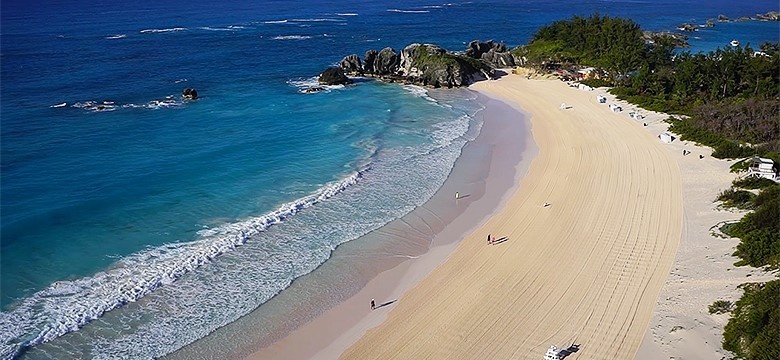 Pristine beaches, improved restroom facilities and enhanced amenities - these are just a few of the things that local residents and visitors to Bermuda said should be part of the 'Bermuda beach experience'.
The findings stemmed from a series of detailed surveys and focus groups carried out in recent months by the Bermuda Tourism Authority (BTA) and Ministry of Public of Works.
The local survey asked residents questions such as, "What three words describe the ideal Bermuda beach?" and "What types of activities do you use public beaches for?" and "When visiting a public beach in Bermuda, what types of food service options would you want in close proximity?"
The aim of the surveys was to create a 'Beach Vision' for Bermuda and also to identify any potential gaps in the beach experience (improved restroom facilities, for example).
The below statement is the newly-formulated beach vision for Bermuda:
"The Bermuda pink sand beach experience must be iconic, memorable for its natural beauty complemented by cleanliness and casual amenities that are culturally authentic – true to the island's attitude of unpretentious relaxation and warm hospitality."
"The aim of the beach vision is for us to realize how we can further improve the beach experience for all beach-goers - both residents and visitors alike," explained The Minister of Public Works the Hon. Craig Cannonier JP MP. "It's a vision for the future that is truly a reflection of where survey respondents told us we need to go. One thing that was immediately clear from the surveys was that the cleanliness of our beaches and their restroom facilities is paramount to beach-goers, as well as the desire that they do not become over-crowded.
"Our aim is simple: to deliver a beach experience that lives up to this vision, with a focus on five public beaches in particular: John Smith's Bay, Horseshoe Bay, Shelly Bay, Tobacco Bay and Clearwater. The main tenet of our plan is to improve the facilities at beaches that already have infrastructure in place, as opposed to creating new infrastructure at beaches where none currently exists."
The survey of potential and past visitors to Bermuda (based in the East Coast of the United States) presented several key findings including the following:
The "ideal" Bermuda beach is clean, with abundant beauty and powdery sand;
Bermuda visitors desire primarily casual dining options near the beaches they visit;
Visitors expect moderate prices for food, beverage and services at public beaches in Bermuda;
In order to gain further insight into the opinions of potential and past visitors to Bermuda, four two-hour focus groups in Boston and New York City were held to discuss topics on beach experiences. The Key Findings were:
Participants showed a general preference for public beaches in Bermuda that are easy to access, with a relaxing energy and with many available activities.
Participants were clearly interested in basic amenities such as chair rental, towel service and equipment rental. Clean public bathrooms were seen as a necessity.
Travelers to Bermuda will likely appreciate an array of high-quality but casual food options on or close to Bermuda's public beaches with options for local cuisine.
The Department of Parks played an important role in providing feedback on the Bermuda Beach Vision, primarily with regards to the overall presence and style of beach vendors.
"When reviewing the beach vision for Bermuda, we considered aspects such as sustainability and the protection of natural assets," explained Parks Officer Craig Burt. "It's about enhancing what's already there, without changing it drastically. The National Parks Act permits only minimal development on beaches in order to ensure that they are not exploited."
"Bermuda's beaches are some of our most valuable and treasured resources," said Minister Cannonier. "They provide a place to escape and find solace at the end of a busy day; somewhere we can gather to socialize with friends and family; somewhere to go for both relaxation and adventure. Their beauty and pristine condition are what makes them so special.
"Every good plan starts with a vision. The beach vision is by no means set in stone; it continues to be a work in progress. Ultimately these beaches belong to the people of Bermuda so we need the public to let us know if we got this right; whether our plan for the future is one they can be proud of."
Feedback on the beach vision can be sent to: beaches@gov.bm.