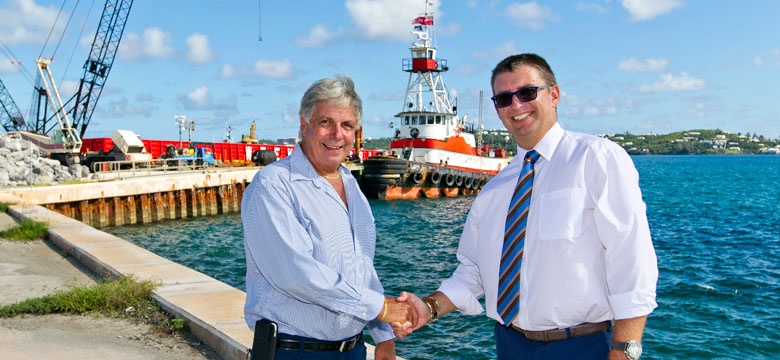 Bermuda and the United Kingdom have licensed the former US Navy Pier at Morgan's Point as an official Bermuda Port Facility - the first and only Maritime Seaport in Bermuda on private property. The Legal Port of Entry designation has been granted by the UK Department of Transport.
Minister of Tourism, Transport and Municipalities Sen. the Hon. Michael M. Fahy JP stated: "This License is based on Morgan's Point Limited's efforts in providing a successful Port Facility Security Plan that has now been approved by the United Kingdom Government. Morgan's Point now joins all Maritime Seaports in Bermuda as part of the International Maritime Organization."
The Minister was speaking today as he presented the certificate of Port Facility Security Plan Approval to Morgan's Point Limited CEO Craig Christensen.
Minister Fahy said, "This is a significant achievement for Morgan's Point, but also a great opportunity to help you expedite your plans to build the first class facilities in the west end. I must congratulate you for the continuing hard work. This great news means further progress for Morgan's Point and further progress in the redevelopment of Bermuda."
Ships may now come directly to the Morgan's Point registered seaport during construction at the site.
Mr. Christensen said, "Morgan's Point Development identified the former U.S. Navy Pier as a potential asset that could be used in the forward planning of the property development in 2014. After careful review, the company decided to begin studies on the pier and the potential value of having it used as a commercial port of entry.
"The Pier was included in the plans for the construction storage and management area (also known as the lay-down area) to be used by the General Contractor. The company began the journey of applying for a Port Facility Operations License with the Department of Maritime Security of the Government of Bermuda and with the Department of Transport from the United Kingdom Government.
"One of the critical factors impacting development plans was getting both heavy machines and certain oversized aggregate and cargo over the road as some of this was too large for travel over the road. Having a working pier would remove this problem for the development for Morgan's Point.
"Morgan's Point determined that having this license would bring significant value to the project and reduce development cost as shipments could be delivered directly to the site. Next month, Morgan's Point will be receiving their main part of their Marina for Caroline Bay and will be delivered directly to the site.
"Morgan's Point is most pleased to have been granted a Port Facility License from the Department of Transport in the U.K and look to use this opportunity to increase project efficiency and cost savings for the new high end hotel and residences."