Friday, September 10th, 2021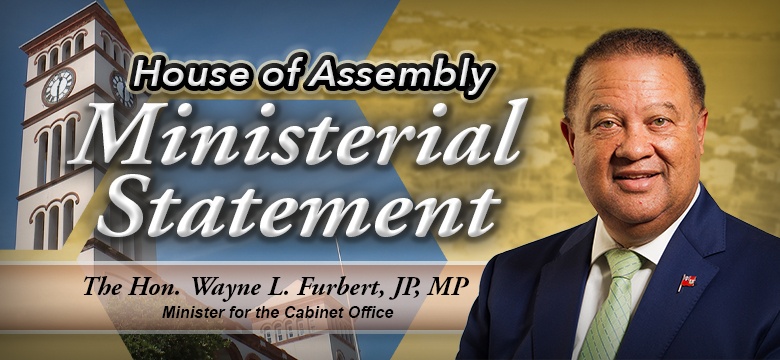 Good Morning, Mr. Speaker.
I rise today to provide this Honourable House with the fifth update on the Short-Term Stimulus Programme that was launched by the substantive Minister of Public Works, Lt. Col. David Burch on December 17th, 2020, with a maximum budget valued at BMD $13,385,000, where small to medium sized contractors were invited to participate in the opportunity to complete infrastructure projects around the island.
Mr. Speaker, you will recall the programme was launched because it was determined there was an urgent need to provide stimulus to the local economy to retain and boost employment numbers in the wake of the economic downturn sparked by the COVID-19 pandemic. As a result, the Ministry of Public Works compiled a list of "shovel ready" projects that are executable almost immediately. These projects are mostly infrastructure improvements and will not add further burden to government operational expenses.  The project's selection principles are to maximize the employment of the private sector while providing much needed refreshing to some of the island's neglected infrastructure.
Mr. Speaker, the guiding principle of this programme is to prioritize all companies that provide the most benefit per dollar spent while spreading the work among Bermudian owned and operated businesses. To ensure a fair and equitable allocation of the stimulus funding across the participating businesses, the Ministry maintains a register of approved contractors and awarded contracts to ensure that no one company monopolizes the project list. Once a company obtains a project, they will be rotated to the bottom of the list to allow other companies an opportunity for work.
Mr. Speaker, I had the pleasure of attending Elbow Beach last Friday, September 3rd to announce the completion of the first phase of one these stimulus projects. The Elbow beach public stair access was officially reopened last Friday after being washed away during Hurricane Teddy which brushed by Bermuda on September 21st of 2020. The first phase included replacing the old damaged wooden staircase with a robust boulder supported foundation and concrete stairs, which should withstand future hurricanes and storms for years to come. Phase 2 will include boulder revetment work immediately to the east and west of the new stair access to protect the shoreline form erosion.
Mr. Speaker, the contract to complete this work was awarded to Smith Hauling and Excavating and was valued at $199,954.94. The work commenced on May 17th this year and I am happy to report that the project was completed on time and on budget on July 28th.  The project employed seven individuals with three out of the seven previously unemployed.
Mr. Speaker, as of today, there are 11 projects that are ongoing, 10 are completed which is a Total of 21 Projects that are underway or completed.
The 11 Projects currently ongoing are as follows:
Artemis building B Interior Work  - awarded to Integro Interiors Ltd.;
New Plant Inspection Building at Botanical Gardens – awarded to Daniels Construction;
Verandah repairs at Camden – awarded to Limestone Holdings;
Darrell's Wharf Dock Repairs  - Awarded to Kaissa Limited;
Agriculture Service Center – Engineering and Design Services – awarded to Brunel LTD.; 
Quarry Carpentry Shop - Electrical Design Services – awarded to George Hadley Limited; 
Judicial Department (DLBE) – Interior Design and FFE services – awarded to Cooper & Gardner; 
Artemis Building B – Wash-down Area – awarded to Heart and Soul Construction;
Wastewater section landscaping project A-C – awarded to Unity Edible Landscapes;
Roadside Vegetation Removal – Vesey Street – awarded to Island Construction Services and;
Roadside Vegetation Removal – Ferry Road awarded to BlueRock Construction & Roofing.
10 Completed projects:
Elbow Beach Public Stairs Access – completed by Smith Hauling and Excavating;
Molecular Diagnostic Laboratory – completed by Greymane;
Artemis Building A - Loading Dock Repairs completed by Next Level Development;
Roadside Fencing Project 5 – Mullet Bay Road St Georges completed by Global Innovations;
Roadside Fencing 1 – Smith's South Road completed by Creative Exteriors Management;
Roadside Fencing 3 – Government Hill completed by Brown and Company;
Dock Maintenance Pack 2 completed by Triton Water;
Dock Maintenance Pack 3 completed by Kaissa Limited;
Roadside Fencing Project 2 – Warwick Playground and Chaplin Bay completed by A-Tec Contracting and;
Flatts Bridge handrail project completed by Strike Force General Trucking, Excavating and Maintenance.
Mr. Speaker, beyond these projects, there are also several projects in the RFQ and evaluation phase, including the cleaning of the Pembroke Canal, removal of roadside vegetation, Quarry Slate Shelter, and the Waste Water Section Landscaping project D-E. 
Mr. Speaker, from a financial perspective, the Stimulus Programme, to date has:
Spent - $3,206,059.80 which represents 24% of the total Stimulus Funds; and
19 out of 93 companies have been awarded contracts.
Mr. Speaker, the bottom line and perhaps of the utmost importance to the people of Bermuda are the numbers employed. While I await job figures from all the contractors, I can confirm that based on the numbers submitted thus far, the Economic Stimulus Programme has created at least 51 jobs, with 40 of them going to Bermudians. 
We are delighted with the progress made thus far from both the contractors and their employees. 
Mr. Speaker, I am immensely proud of the entire team at the Ministry, they have all been working extremely hard on this initiative led by consultant Project Manager, Mr. Robert Richardson, who is responsible for coordinating the work of all those involved.
Mr. Speaker, I am equally proud to say that the Economic Stimulus Programme is an excellent example of the Ministry of Public Works commitment to advancing capital projects that keep our people employed while strengthening the infrastructure of our island home. 
Thank you, Mr. Speaker.