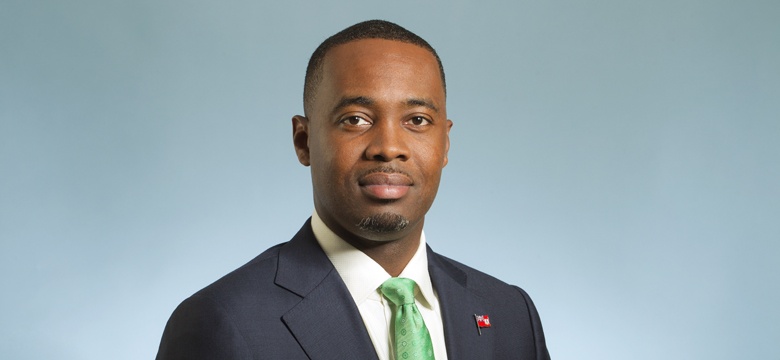 Ministerial Statement by the Premier and Minister of Finance, The Hon. David Burt, JP, MP:
Thank you, Mr. Speaker
Mr. Speaker, I rise today to inform this House about my recent engagement in Brussels, Paris and London.  
Mr. Speaker, Europe is going through its greatest reform in our lifetime.  It is responding to the impact of United Kingdom's decision to leave the European Union, and the impacts of the recent elections in France and Germany.   Emmanuel Macron, the new French President, is seeking to take a greater leadership role amongst his European partners while Angela Merkel after twelve years of leadership and with a new coalition Government addresses Germany's weakening position within the EU.   In addition, indications are that the Eurozone is seeking to increase its fiscal oversight role. 
Mr Speaker, I outline the challenges within Europe to highlight the current uncertainty of politics in Brussels and across Europe.  This uncertainty means that Bermuda will, now more than ever, need to continue to educate others about our business model and reputation.
During my visit I had the opportunity to meet with the head of staff in the Cabinet of Commissioner Moscovici to begin this process of greater understanding.
Our message is that Bermuda adheres to all international standards of Tax Transparency.  For example,
Bermuda complies with all OECD criteria of transparency and exchange of information for tax purposes.  
Bermuda has been recently rated 'largely compliant', on exchange of information upon request.
Bermuda is the only UK Overseas Territory to have put into practice the OECD Country by Country (CBC) reporting regime. As a result, the French Government has placed Bermuda on its CBC Reporting White List, the only UK Overseas Territory to have received this designation.
Bermuda was the first UK Overseas Territory to join the Base Erosion and Profit Shifting (BEPS) inclusive framework, by joining effective 1st January 2017.
Bermuda shares data upon request and through automatic exchange through our tax information exchange reporting portal.  This portal has received Common Reporting Standards (CRS) information from industry and has delivered it automatically to OECD members including EU Member States via the OECD's reporting portal.  Bermuda's portal is also now live for receiving CBC information from the applicable large multinationals headquartered in Bermuda.  It will be able to upload this CBC information to the OECD portal by the middle of 2018.
Mr Speaker, I had the pleasure of meeting the OECD Secretary General Angel Gurria in Paris. We had a valuable discussion on Bermuda's recent OECD rating of 'largely compliant', which the Secretary General praised. He also applauded Bermuda's placement on France's CBC reporting White List, and the measures taken on levels of transparency.  I am pleased to report that Bermuda continues to maintain a strong relationship with the OECD and its members.
Mr. Speaker, You would no doubt be aware that Bermuda is a global leader in insurance and reinsurance. We were able to share that within the past decade Bermuda has covered $25 billion in EU catastrophe insurance claims.   In addition, Bermuda's Solvency II equivalency in insurance by the EU was acknowledged, with Bermuda recognized as being on the leading edge of international cooperation and transparency standards.  Recent catastrophic events in the Caribbean and the U.S. highlight the importance of our insurance and reinsurance industry in providing capital to stimulate recovery efforts. 
Mr Speaker, While in London I held three bilateral engagements.  The first was with the Minister of State for the Commonwealth and the UN, Lord Ahmad of Wimbledon, who also has responsibility for the Overseas Territories. Our discussions focused on the disaster relief efforts to those Territories impacted by Hurricanes Irma and Maria.  The Minister formally acknowledged the support provided by Bermuda to those affected Territories and applauded our ability to provide skilled assistance.
In my capacity as President of the United Kingdom Overseas Territories Association I was able to address with the Minister the agenda for the upcoming Joint Ministerial Council to be held in November where the Bermuda delegation will lead in those discussions on behalf of the Overseas Territories.  I also held discussions with the Rt Hon Mel Stride MP, Financial Secretary to Her Majesty's Treasury. His predecessor the Rt Hon David Gauke MP, who remains a member of Theresa May's Cabinet, is a strong advocate for Bermuda.  It was imperative that I ensured that Bermuda retains the same level of support from Treasury under its new leadership as it did under David Gauke. This support is even more important given our efforts in Brussels.
Mr Speaker, It was an honour to meet with the Foreign Secretary, the Rt Hon Boris Johnson MP. The Foreign Secretary on behalf of the UK Government undertook to support Bermuda's efforts to diversify our economy, protect our financial services industry, and uphold our fiscal independence.
Mr. Speaker, To build upon our recent outreach to enhance an understanding of Bermuda and its business model, officials in both the Ministry of Finance and the Bermuda London Office will continue our engagement in Brussels at a technical level, and as necessary I will join the effort to ensure our financial future.
Thank you Mr. Speaker.