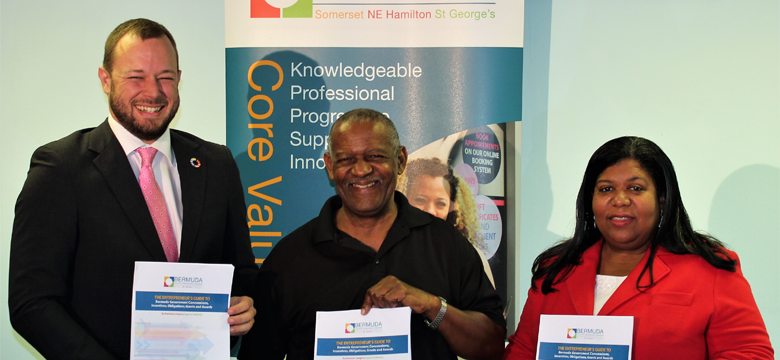 Endorsement at Launch of BEDC Guide for Entrepreneurs
The Bermuda Economic Development Corporation (BEDC) has won an unqualified endorsement for its services to small businesses, as it rolls out yet another initiative that will bring further guidance to entrepreneurs. 
The new Entrepreneur's Guide to Government Concessions, Incentives, Obligations Grants and Awards was created to provide insight into the many support systems, concessions and funding opportunities provided by the Bermuda Government.
This resource document will provide an easy way for entrepreneurs to learn about, and access, these government opportunities.
But hailing the value of the BEDC during the release of the guide, the owner of Hendy's Laundromat on Angle Street, Irvin Hendrickson, indicated how the Government organization under the Ministry of Economic Development had already been beneficial to the development of his business.
Mr. Hendy encouraged anyone interested in starting or developing a small business to take advantage of BEDC services.
BEDC Chairman Nick Kempe said of the new Guide, "We hope that creating this document will help to streamline the process of finding the information and ultimately create an easier way for people to take advantage of government incentives."
In addition to listing the incentives, there are a variety of BEDC created concessions that help business owners manage their cash flow.  These BEDC products and incentives are the result of the continuing effort to meet the changing needs of entrepreneurs.
The launching of this Guide follows Global Entrepreneurship Week (GEW), which in Bermuda occurs the entire month of November.  During GEW 2016, BEDC with support from public and private stakeholders, coordinated over 45 events that provided existing and new entrepreneurs with opportunities to learn, be inspired and start up new ventures. 
This Guide extends beyond the month of November and can be a continued resource for entrepreneurs year round. 
The Minister of Economic Development, Dr. the Hon. E. Grant Gibbons, JP, MP said, "I am pleased to acknowledge the launch of The Entrepreneur's Guide to Bermuda Government Concessions, Incentives, Obligations, Grants and Awards, a document that will no doubt become an invaluable resource to Bermuda's entrepreneurs and business owners." 
The Guide can be found on the BEDC website at www.bedc.bm or you can obtain a printed copy by visiting the BEDC offices located on the first floor of Sofia House, 48 Church Street. 
For more information on the Guide and other BEDC products, email: info@bedc.bm.