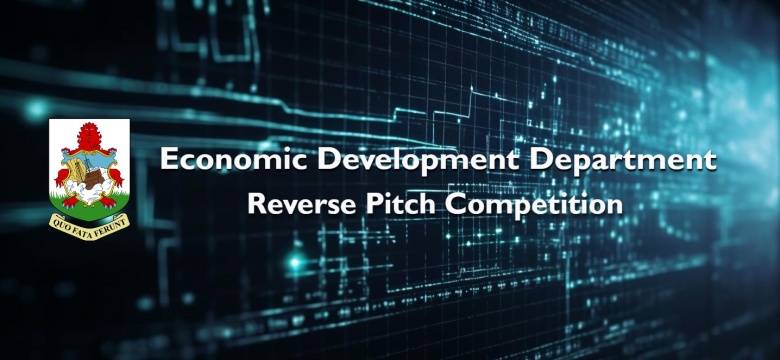 The Economic Development Department (the EDD) is pleased to launch this year's edition of its annual Reverse Pitch Competition, an Island-wide technology competition for Bermuda's high-school students and an exciting opportunity for high school students interested in technology and innovation.
The competition is designed to empower the next generation of tech innovators, giving them a platform for showcasing groundbreaking solutions and gaining exposure to potential investors. Open to aspiring techies and problem-solvers, it fosters innovation and initiative among high school students. Participating in the event allows participants to unleash their full potential and turn their innovative ideas into reality. They do so by proposing solutions to real-life problems for the benefit of the community.
Unlike a regular pitch competition, which involves participants presenting their pitch to potential investors, reverse pitch participants engage in problem-solving regarding a pain point or a challenge that is pitched to them. On the competition's webpage, the EDD has posted four challenges. Students are invited to select one of these challenges and design an app to resolve it. They are then asked to present as a team.
Summaries of this year's challenges are:
Bus App: An app that revolutionises public transportation by making booking a ride on a bus fast, cost-effective, and convenient.
Live Alert: An app that will alert road users of traffic issues such as traffic jams, accidents, potholes, roadworks, etc., in real-time.
Ocean Cleanup: An app that allows people to report and track ocean pollution sources and sightings.
Time Tracker: An app that keeps track of your items' lifespans and notifies you when they need to be replaced or serviced.
The teams with top solutions will present before a panel of judges during this year's annual edition of Tech Education Day, and the winners will be celebrated with awards and prizes. The EDD has also partnered with the BEDC for the day: the Reverse Pitch Competition winners will be invited to pitch their solutions that same night at the Global Entrepreneurship Week's Rocket Pitch Competition, competing for a cash prize.
Jason Hayward, Minister of Economy & Labour, stated, "The Reverse Pitch Competition offers a unique networking experience that connects ambitious young minds with industry professionals, mentors, and investors. Participating high-school students can gain insights and guidance through these valuable connections to propel their technology journey forward. This event is very much in line with Bermuda's Economic Development Strategy, of which Strategic Priority no. 5, "People," is fully committed to equipping Bermuda's workforce with the necessary tools to remain competitive, which starts with Bermuda's students."
In addition, the Reverse Pitch Competition presents an exciting chance for students to win prizes. The winners will receive awards after the competition and be invited to compete in the Youth Pitch Category of the BEDC's Rocket Pitch Competition, which is taking place that same evening.
Jamillah Lodge, BEDC Communication and Development Director explained, "The BEDC is pleased to partner with the EDD to create opportunities for our young people. Last year, hearing the students pitch their Reverse Pitch solutions was so inspiring that we decided it would be an excellent opportunity to partner on the Youth Pitch category of the Rocket Pitch Competition this year. This partnership will fuel the entrepreneurial mindset of each student participating this year. "
Maryem Biadillah, Acting Director of the Economic Development Department, said, "The annual Reverse Pitch Competition is a force for good, empowering high-school students to explore their innovative spirit and propose solutions that would positively impact life on the Island. This competition paves the way for a brighter future by harnessing the power of technology and innovation. It inspires the next generation of tech leaders."
The EDD invites high-school students to form teams and visit the competition's website for information on this year's challenges and deadlines. School teams and independent technology clubs are welcome. Members of the public are welcome to email edd@gov.bm with any questions.