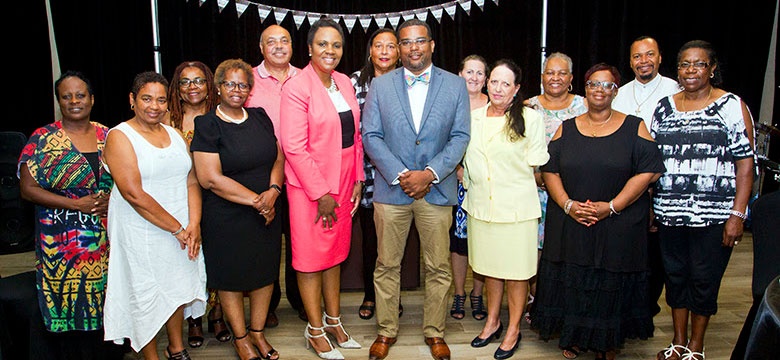 The Department of Education recently held their annual retirement reception to honour 19 staff members for their years of service.
Minister of Education and Workforce Development, the Hon Diallo Rabain, JP, MP congratulated the group and praised them for their remarkable years of service. 
Minister Rabain stated, "In a world that changes nearly every day, it is no small feat to recognize the teachers, para teachers, administrative assistants, officers and staff that served the Department on an average of 25 years each.  Collectively, your service represents 470 years of dedication to our students their families and by extension, our island home.
"Everyone knows that you don't pursue a career education to make a lot of money. Teaching is a profession of love, a profession of compassion and a profession of life-long commitment. As one of the most honorable professions, one can do, it is indeed humbling to able to stand in the shadows of these giants, like Sharilyn Shabazz and Phyllis Harshaw and who taught in primary school for 37 and 36 years respectively and Yolanda Simons and Earldor Williams who taught for 35 and 34 years.
"On behalf of the Ministry of Education and Workforce Development, we honor your commitment to every day putting your shoulder to the wheel to do what is needed for our students so they can fulfill their pre-destined potential in a safe and nurturing environment. Your years of service is appreciated and they will be revered and cherished."
This year the Minister Rabain and Acting Commissioner of Education, Kalmar Richards hosted the reception at CedarBridge Academy.  Below is full list of retirees:
Cindy Laurin, Primary School Teacher, Dalton E. Tucker Primary, 30 years
Coralita Dill, Primary School Principal, Gilbert Institute Primary, 28 years
David Outerbridge, Traffic Warden/Custodian, Francis Patton Primary, 14 years
Donna Swainson-Robinson, Senior School Teacher, CedarBridge Academy, 25 years
Daniel Hill, Primary School Teacher, Elliott Primary, 20 years
Dawn Broadbelt, Support Teacher, Clearwater Middle School, 22 years
Donna-Mae Gomes, Educational Therapist Asst., Whitney Institute Middle School, 30 years
Earldor Williams, Primary School Teacher, West Pembroke Primary, 34 years
Gwendolyn Creary, Supervisor Behaviour Management Programme, Child Development Programme, 24 years
Laverne Simons, Assistant Director, ESA (Central), 33 years
Lovette Lovell, Family Coordinator, Child Development Programme, 27 years
Mary Beth Aitken, Primary School Teacher, Northlands Primary, 20 years
Murray Scott, Learning Support Teacher, CedarBridge Academy, 17 years
Patricia Lee, Para-educator, CedarBridge Academy, 23 years
Phyllis Harshaw, Learning Support Teacher, CedarBridge Academy 36 years
Robert Corday, Primary School Teacher, Francis Patton Primary, 9 years
Sharilyn Shabazz, Primary School Teacher, Elliott Primary, 37 years
Shelley Steede, MOED, 3 years
Yolanda Simons, Primary School Teacher, Purvis Primary, 35 years