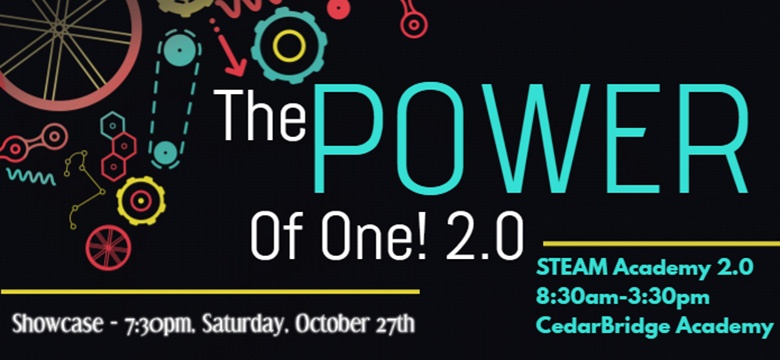 Department of Education's Gifted and Talented Education Programme (GATE) will offer for the first time a mid-term STEAM academy for students Primary 5 through senior school.  The Department is also pleased to announce that the students from the summer academy will give a repeat performance summer showcase The Power of One on October 27.
The Science, Technology, Engineering, Arts and Mathematics (STEAM) Academy 2.0 will be held October 22-26 (Monday-Friday).
As part of the public school mid-term break, several programmes are being offered including a Gaming Academy for students interested in learning video game and technical theatre production.  In addition, the STEAM academy has developed an exciting performing arts course provided through its joint partnership with AH! TEMPO– Bermuda's Premiere Show Choir & Performing Arts Programme.
AH! TEMPO, under the directorship of local Music Director, Mrs. Malinda Simmons-Jennings, and a team of local experts in the Visual and Performing Arts, will immerse students in the multi-facets of the Arts creating a musical production. The students will experience daily instruction in dance, devising original drama, vocal styles, vocal technique, set building, costume and prop making. 
DIGIBOTICS will immerse P4-P6 students in 21st Century learning experiences that develop some very important skill sets.  Students will engage daily in critical thinking, coding, programming, digital interfacing, collaboration, curiosity, ingenuity, hands-on robot design, global awareness, engineering challenges, and teamwork via web-based platforms.  This year, they will specifically explore Drone Technologies impact with renewable energies.
The STEAM Academy will be held at CedarBridge Academy – North block for $150.00 per child and siblings $75.00.  For more information or to register visit www.moed.bm/gate.
The STEAM  Showcase on 27 October, 7:30 pm at Ruth Seaton James Centre for Performing Art and tickets are $35.00 for adults and $10.00 for children under 12. Tickets are available at STEAM Academy or from student participants.