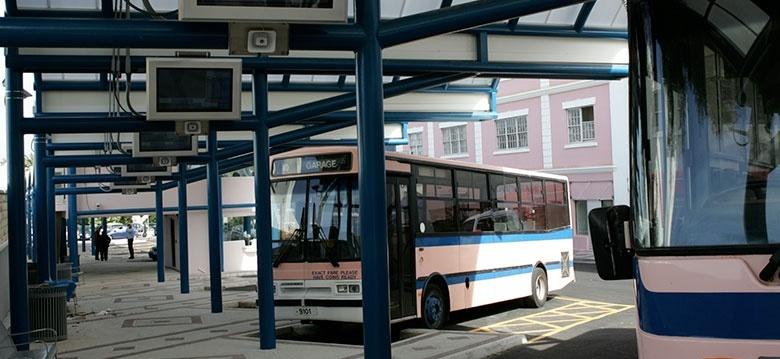 The Department of Public Transportation (DPT) wishes to advise the public that due to the extensive road closures required for the Bermuda Day Half-Marathon Derby, associated races and the Bermuda Day Parade festivities, bus service will begin at 10:30 am on Bermuda Day, Friday, May 26, 2023, on the holiday schedule.
Due to the day's events, numerous detours will be required once bus service starts. The following detours will be observed from 10:30 am until the Bermuda Police Service removes all barricades.
The DPT extends our thanks for your patience and support. We wish everyone a safe and enjoyable Bermuda Day.
| | | |
| --- | --- | --- |
| Route | Direction | Detour |
| 1 | Inbound to Hamilton | Point Finger Road, left on Berry Hill Road, around the roundabout to Crow Lane then East Broadway, right on Spurling Hill, right on Court Street, left on Victoria Street to the Hamilton Bus Terminal. At approximately 12:30 pm, Court Street will close to traffic and buses will travel up King Street, left on Victoria street to Hamilton Bus Terminal. |
| 1 | Outbound from Hamilton | Right hand lane on Church Street, right on King Street, left on Reid Street, down Spurling Hill then on to East Broadway, Crow Lane, left on Berry Hill Road, right on Point Finger Road. At approximately 12:30pm Church Street will close and buses will travel via Victoria Street, right on King Street, left on Reid Street, right down Spurling Hill and join the regular route. |
| 3 | Inbound to Hamilton | Regular route until Reid Street, right on Court Street, left on Victoria Street to Hamilton Bus Terminal. At approximately 12:30 pm, Court Street will close to traffic and buses will travel up King Street, left on Victoria street to Hamilton Bus Terminal. |
| 3 | Outbound from Hamilton | Right hand lane on Church Street, right on King Street, left on Reid Street, down Spurling Hill then on to East Broadway, Crow Lane, on to Trimingham Hill, left on South Road, left on Collectors Hill Road to Verdmont Road, right on Middle Road |
| 4 | Inbound to Hamilton | The first bus is at 10:27 am from Spanish Point and will detour on to Berkeley Hill Road, left on St. John's Road, right on Woodlands Road to the roundabout, left on Dundonald Street to the roundabout, stay on Dundonald Street, right on Washington Street, left on Victoria Street to the Hamilton Bus Terminal |
| 4 | Outbound from Hamilton | Washington Street, left on Dundonald Street, right on Woodlands Road, left on St. Johns Road to Spanish Point |
| 7 | Inbound to Hamilton | Point Finger Road, left on Berry Hill Road, around the roundabout to Crow Lane then East Broadway right up Spurling Hill, right on Court Street, left on Victoria Street to the Hamilton Bus Terminal. At approximately 12:30 pm, Court Street will close to traffic and buses will travel up King Street, left on Victoria street to Hamilton Bus Terminal. |
| 7 | Outbound from Hamilton | Right hand lane on Church Street, right on King Street, left on Reid Street, right down Spurling Hill then on to East Broadway, Crow Lane, left on Berry Hill Road, right on Point Finger Road. At approximately 12:30pm Church Street will close and buses will travel via Victoria Street, right on King Street, left on Reid Street, right down Spurling Hill and join the regular route. |
| 8 | Inbound to Hamilton | The Lane, around the roundabout to Crow Lane then East Broadway, right up Spurling Hill, right on Court Street, left on Victoria Street to the Hamilton Bus Terminal. At approximately 12:30 pm, Court Street will close to traffic and buses will travel up King Street, left on Victoria street to Hamilton Bus Terminal. |
| 8 | Outbound from Hamilton | Right hand lane on Church Street, right on King Street, left on Reid Street, right down Spurling Hill then on to East Broadway, Crow Lane, Trimingham Hill. At approximately 12:30pm Church Street will close and buses will travel via Victoria Street, right on King Street, left on Reid Street, right down Spurling Hill and join the regular route. |
| 10 | Inbound to Hamilton | North Shore Road until Berkeley Hill Road, left on St. John's Road, right on Woodlands Road to the roundabout, left on Dundonald Street to the roundabout, stay on Dundonald Street, right on Washington Street, left on Victoria Street to the Hamilton Bus Terminal. Palmetto Road in its entirety will not be served. |
| 10 | Outbound from Hamilton | Start on Victoria Street facing west, turn right on Washington Street, left on Dundonald Street to the roundabout, continue on Dundonald Street to the next roundabout, take a right onto Woodlands Road to the roundabout, left on St. John's Road, right on Berkeley Hill Road and a right on to North Shore Road. Palmetto Road in its entirety will not be served. |
| 11 | Inbound to Hamilton | North Shore Road until Berkeley Hill Road, left on St. John's Road, right on Woodlands Road to the roundabout, left on Dundonald Street to the roundabout, stay on Dundonald Street, right on Washington Street, left on Victoria Street to the Hamilton Bus Terminal. |
| 11 | Outbound from Hamilton | Start on Victoria Street facing west, turn right on Washington Street, left on Dundonald Street to the roundabout, continue on Dundonald Street to the next roundabout, take a right onto Woodlands Road to the roundabout, left on St. John's Road, right on Berkeley Hill Road and a right on to North Shore Road |