Friday, February 16, 2018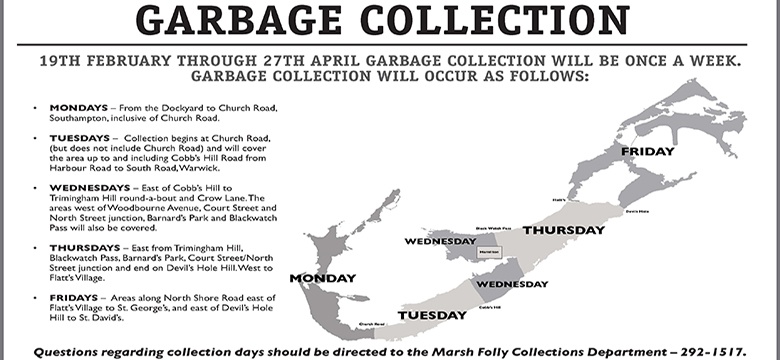 As you are aware, the Ministry of Public Works advised of once per week garbage collection. The new schedule is from Feb. 19th – Apr. 27th.
See the attached map for ease of reference. #Copy  #Paste  #Share
Garbage collection will occur as follows:
Mondays – From Dockyard to Church Road, Southampton, inclusive of Church Road.
Tuesdays –  Collection begins at Church Road, (but does not include Church Road) and will cover the area up to and including Cobb's Hill Road from Harbour Road to South Road, Warwick.
Wednesdays – East of Cobb's Hill to Trimingham Hill round-a-bout and Crow Lane. The areas west of Woodbourne Avenue, Court Street and North Street junction, Barnard's Park and Blackwatch Pass will also be covered.
Thursdays – East from Trimingham Hill, Blackwatch Pass, Barnard's Park, Court Street/North Street junction and end on Devil's Hole Hill. West to Flatt's Village.
Fridays –  Areas along North Shore Road east of Flatt's Village to St. George's, and east of Devil's Hole Hill to St. David's.
Questions regarding collection days should be directed to the Marsh Folly Collections Department – 292-1517.