Tuesday, December 5, 2017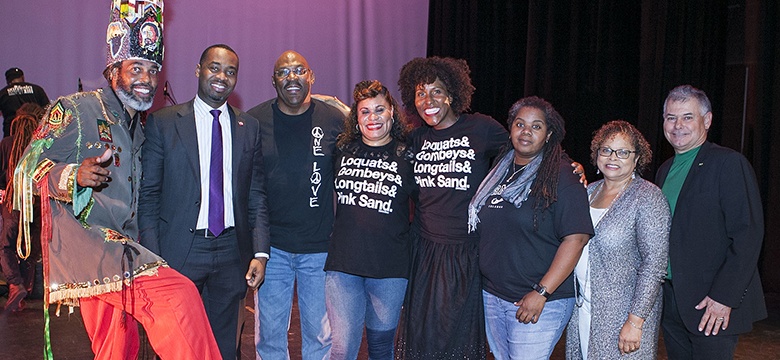 Good Day Members of the Media,
Please find the attached photographs taken at the Carifesta Showcase on Sunday evening at the Ruth Seaton James Centre for the Performing Arts.
The showcase, hosted by Premier The Hon. David Burt JP MP, featured Bermuda's delegation to Carifesta XIII. There were performances by: Adum Reb (K.A.S.E.), Alan C. Smith, Arijahknow Live Wires, Cindy Smith, Joy T. Barnum, Rikkai Scott, The Bermuda Gombeys, United Dance Productions, Wall Street Band and Yesha Townsend.
The purpose of the showcase was to allow Bermuda's residents to view firsthand how well Bermuda's participants performed in Barbados at Carifesta XIII - the region's most celebrated cultural extravaganza, which took place from August 17 to August 27. Every two years, CARICOM and CARIFORUM countries of the Caribbean and Latin America gather to celebrate the spirit of their people through the expressions of Art, Craft, Music, Food, Fashion, Film, Folklore, Health & Beauty, Literary Arts, Theatre and Dance at the Caribbean Festival of Arts known as CARIFESTA. CARIFESTA provides a forum for the people of the region to be exposed to each other's culture, and in the process, cultivates tolerance and appreciation for differences.