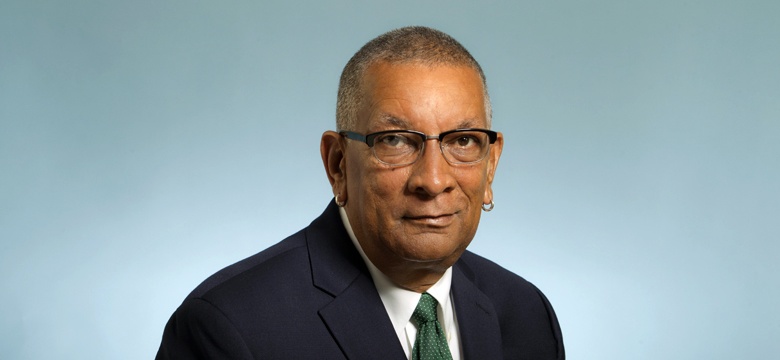 Ministerial Statement by the Minister of Public Works, Lt. Col. the Hon. David A. Burch, OBE (Mil), ED, JP, MP
Mr. Speaker, I rise to report on the state of bridges infrastructure within the Island and the new contract awarded to Ramboll UK.
Mr. Speaker, infrastructure is crucial. Humanity is naturally pulled toward what sustains us, be that practical or amenable. Real infrastructure is essential to modern living, and our economy.
Our infrastructure, especially our roads and bridges play a vital role in social development and economic growth for all Bermudians.
Over the past decade, there has been an increased awareness of the significance of bridges to our nation's economy and the safety of the traveling public. At all levels of government, a concerted effort has been made to reduce the number of structurally deficient bridges that require significant maintenance, rehabilitation, or replacement.
Mr. Speaker, in Bermuda our history and future are linked to our bridges and I'd like to take just a moment to give a brief history lesson, if you will. 
Hundreds of years ago, Richard Norwood divided the land in such a way that every share would have access to the water, north or south. For decades, it was possible to avoid extensive travelling overland. Nevertheless, Governor Butler's Fifth Act in his General Assembly of 1620 ordered the "construction of certain public bridges and their maintenance," essential for footpaths allowing people to gather on public occasions. By 1624 three bridges were marked on Captain John Smith's chart of Bermuda, included in his General History of Virginia, New England, and the Summer Isles. Today, some 397 years later, we have over 40 bridges.
As a point of significance, Mr. Speaker, Somerset Bridge which was built in 1634, is still the smallest drawbridge in the world, but it might also be the first bridge ever built in the Western Hemisphere. As such, our nation has a great legacy with bridges.
Mr. Speaker, today, bridges are still an important asset to this country. Our teams inspect and fix our bridges on a continuous basis to ensure safety and infrastructure integrity.
The Swing Bridge substructures were built in 1864. A hundred years later, in 1964, the actual superstructure was constructed.
Mr. Speaker, over 100 years ago the predominant form of transport was the horse and carriage and foot traffic. Traffic load has increased over these years and after 1964, the Swing Bridge structure has been subjected to a number of modifications and repairs. These include the strengthening of the approach spans by the addition of girders, strengthening of many cross beams by the addition of steel plating and other such reinforcement work.
Mr. Speaker, corrosion is a serious threat to the long-term function and integrity of a steel bridge. This is true for all bridges, but it is more serious in Bermuda where salt water and warm weather are the perfect storm to accelerate corrosion on a Steel Structure. Typically, lifespan for this type of bridge is around 50 years. Swing Bridge is now 53 years old and 153 years old when considering the substructures.
Our latest studies on the Swing Bridge show that this bridge will have to be replaced within 5 years.
The work completed earlier this year will allow us to extend its lifespan until 2021, but it is time Mr. Speaker, to rebuild this essential piece of infrastructure.
The other infrastructure that causes some concern for us is the Causeway and Longbird Bridge.
The causeway was opened to traffic in 1871. In the late 1940's, civilian motor vehicles were allowed on the causeway and this bridge has since become a vital artery for Bermuda.
Several inspections were performed on the causeway and various scenarios were also looked at to see what would be the best improvement, for both safety and investment for the tax payer.
Mr. Speaker, the causeway is an old structure, but I am pleased to advise that the causeway is sound.  Maintenance work needs to be done every year, but there is no structural or economical argument to support the construction of a new causeway.
However, Mr. Speaker, Long Bird Bridge is another story – it was condemned several years ago.  Two Single spans of Bailey bridge were erected to accommodate traffic as a temporary solution. This temporary solution was put in place in 2007.
Mr. Speaker, accelerated corrosion on these bridges forced us to change deck plates earlier this year. In ordinary climate conditions, these plates should last 25 years, but in Bermuda they lasted only 10 years. This bridge is safe, but its lifespan is similar to that of the Swing Bridge.
As the Minister of Public Works, I am responsible for ensuring the continued safe condition of Government-owned bridges.  The condition of both Swing and Longbird Bridges, combined with the lead time required to design, procure, construct, and commission replacements, make this work critical. 
As such, a three phase action plan was developed by the Ministry:
Phase I is to study the location of the bridges, the topography, the volume and flow of marine and highway traffic and to provide well defined options for each of the two crossings including a Class C cost estimate.
Phase III is to prepare detailed designs, plans and specifications that are 100% complete and ready to be issued for tender with a Class A cost estimate.
Phase II is to narrow the options down to one preferred option for each bridge including a Class B cost estimate.
The contract was tendered in February this year to select an engineering company to provide six scenarios for the future of the bridges. For each bridge we asked for 3 movable and 3 non-movable options.
Tender documents for this open tender process for the Phase I Feasibility Study were collected by five (5) companies.
Ramboll UK Limited - an award winning, experienced engineering company, having completed many successful bridge projects around the world – the lowest bidder - tendered a competitive price that was within 13% of the Works and Engineering estimate and was awarded the contract in August for $400,460.
Mr. Speaker, as we speak the study is on time and on budget.  The report will be presented to me on January 10th, 2018.
Following this report, we will chose one option for each bridge and the best procurement methods for the construction - conventional, or design build, or other format to optimize quality and cost.
Mr. Speaker, we are weeks away from the year 2018, as such new technologies and materials are helping engineers build bridges better and faster, while also improving maintenance for longer bridge life.
Sensors are being embedded into both new and existing bridges to provide continuous feedback on structural conditions. This data helps engineers identify and address problems earlier and improve public safety.
Mr. Speaker, new materials such as ultra-high performance concrete, high performance steel, and composites are being used to add durability, higher strengths, resilience, and longer life to bridges.
Prefabricated bridge elements—structural components that are built off-site—are being used to reduce the amount of time traffic needs to be disrupted while a bridge is repaired or constructed. Prefabricated bridge elements will also improve significantly the quality of concrete in our work with high performance aggregates (not available in Bermuda) and optimal curing conditions.
These technologies, will be used in our design to lower our construction cost, increase durability and decrease maintenance cost.
Mr. Speaker, the target life span of the new bridges will be 100 years.
Finally, Mr. Speaker, built into the process for Phase I is the provision to imbed a Bermudian engineering trainee with the successful bidder so that the process and knowledge gained during this exercise will be available to the Ministry once the bridges are in place.  These new bridges will be engineered by one of the best bridge engineering firms in the world and as such an outstanding young Bermudian engineering trainee – Mr. Ricardo Graham-Ward will commence a 6 month secondment with Ramboll's UK office commencing on 15th January 2018.
Mr. Speaker, this secondment will allow this young Bermudian civil engineer the opportunity to work on this project at the very beginning and be trained by the best movable bridge engineers in the world.  I am certain this attachment will provide him with invaluable training and experience that would otherwise not be available to us.
Mr. Speaker, I shall keep this house informed of progress on this initiate as we advance through the remaining two phases.
Thank you, Mr. Speaker.