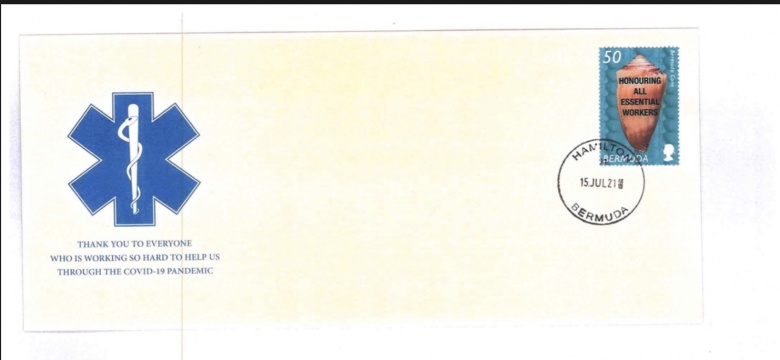 In a gesture of appreciation, the Bermuda Post Office (BPO) is paying tribute to all essential workers who have helped during the COVID-19 pandemic by repurposing of one of its existing stamps.
The BPO has recently revised the 50 cent shell stamp and released it as a special envelope.
The stamp which depicts a Bermuda cone shell has been overprinted with the title: "Honouring All Essential Workers".
The envelope features the Star of Life used by many countries around the world to represent emergency and medical services.
There is also a message on the envelope which reads: Thank you to everyone who is working so hard to help us through the Covid-19 pandemic.
Today the Minister for the Cabinet Office, Wayne Furbert said, "Many countries around the world have taken the opportunity to celebrate and honor their essential workers by producing a stamp. The Stamp Design Advisory Committee has decided to use an already existing stamp and run an overprint message thanking our essential workers. We are grateful for all of their life saving and critical work over these last 17 months."
The envelopes are now available at the Bermuda Post Office at a cost of $2.00 each.