Thursday, October 11, 2018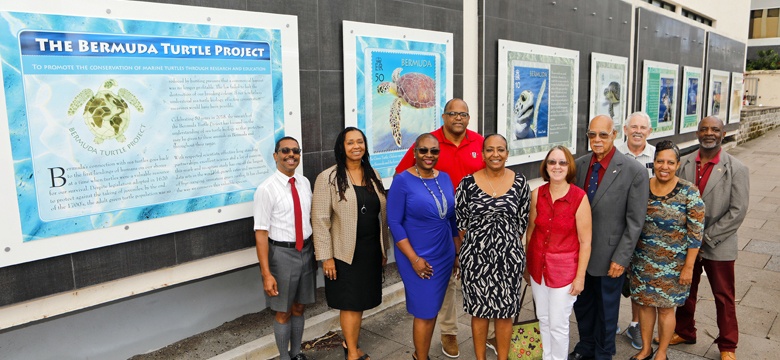 Earlier today, the Minister for the Cabinet Office with Responsibility for Government Reform, Lovitta Foggo, JP, MP, joined members of the Bermuda Post Office (BPO) in unveiling the 50th Anniversary of the Bermuda Turtle Project postal panels. The panels are located on the Church Street side of the BPO, and the public is encouraged to view the artwork.
The public will recall that in March, the BPO issued a series of commemorative stamps highlighting the Bermuda Turtle Project and the organisation's efforts to promote the conservation of marine turtles through research and education (See Liner Notes for background info).
As a reminder, to raise awareness of Bermuda's postal service, this week the BPO planned a series of activities in tandem with the observance of World Post Day – which is recognized annually on 9 October. These events included an employee blood drive; a long service awards presentation; and today's official unveiling of the turtle panels.
As a note, more than 150 countries recognise World Post Day, which is in keeping with the anniversary of the establishment of the Universal Postal Union (UPU) in 1874 in Bern, Switzerland. The observance encourages UPU member countries to undertake activities aimed at generating broader awareness of the Post's role and activities among the public on a national scale.