Thursday, July 14th, 2016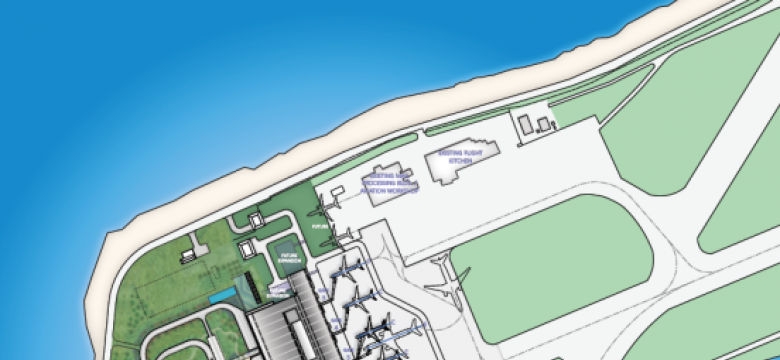 BERMUDA GOVERNMENT UNVEILS DESIGNS FOR BERMUDA'S NEW AIRPORT
-A VISION OF A WORLD-CLASS AIRPORT FOR THE ISLAND-
Newly released designs for the proposed redevelopment of Bermuda's airport were unveiled today at the Bermuda Underwater Exploration Institute (BUEI).  Deputy Premier and Minister of Finance, the Hon. E.T. Richards, JP, MP and The Hon. Michael M. Fahy, JP, Minister of Tourism, Transport & Municipalities led the event along with the Canadian Commercial Corporation and Aecon Group Inc.  
As part of the design unveil, a four-day open house exhibition will provide the public with an opportunity to view the new designs. The exhibit will be located at:
BUEI on July 15 from 12noon to 5pm and July 16 from 9am-5pm,
Port Royal Golf Course (Bella Vista Bar & Grill) on July 18 from 5:30-8:30pm
Penno's Wharf, St George's on July 19 from 5:30-8:30pm. 
New renderings, led by Aecon, show a larger facility designed with sustainability in mind to minimize environmental impact and maximise efficiencies.  Modern conveniences commonplace in many airports, especially high-tech services, will enhance the departure and arrivals process so that the new airport can meet industry quality standards for customer service, security, and immigration. 
Details of the state-of-the-art design include:
Improved accessibility via enclosed passenger boarding bridges
Accessibility features for disabled and elderly guests and employees
Continued pre-clearance for U.S. customs
Sophisticated services such as automated kiosks
Expanded commercial space for food, beverage and retail businesses
Comfortable lounges for passengers
Steel and glass able to withstand a semi-tropical climate
Appealing vistas of the sea
An elevated structure to reduce flooding risk, with a natural light advantage, shelter from the elements and energy efficiencies. 
An improved curb management system to streamline traffic flow.
The new airport will be user-friendly for travellers of any age with a bright and open layout and universal pictorial signage.  The airport will include:
Design elements that reference classical Bermudian architecture, including sloping roof angles, and triangles.
Light and open spaces to give an airy impression and walls styled to represent coral reefs, as part of a marine theme. 
Lush landscaping using indigenous flora compatible with Bermuda's environment and sustainable water features to create an invigorating outdoor experience that travellers can enjoy on an expansive patio.
Plantings, sourced or grown on-island and re-purposed landfill.
A putting green and nature trail to make the airport a pleasant place to wait for flights, especially passengers who may have had early check-outs from their hotel. These guests also can have the option to store baggage and shower at the airport as they shop and dine.   
A display representing Bermudian culture, including stylized kites and birds together with other contributions from local artists. Vibrant colours will enhance a sense of place and provide a warm and welcoming ambiance.
A video of the proposed new airport, created by Aecon, has also been released today and shows three-dimensional architectural renderings of the airport, as well as a fly-through model outlining key features and amenities. It can be viewed at https://youtu.be/twq3iz3jHSM. or on Facebook at AECONBermuda.  
Deputy Premier and Minister of Finance the Hon. E. T. Richards, JP, MP, said: "We are opening an exhibit of designs that will point to exciting future opportunities. The designs will show concepts for a much-needed new airport terminal building that will leave the traveller no doubt that they are in Bermuda. We believe that it is important that our gateway to the world is distinctive – not ostentatious, but tasteful, not competing with any other destination, but a clear indication of our own uniqueness."
"I encourage everyone to come out and meet some of the people involved and ask questions so that you can truly understand the unique value of the proposals and the design."
Senator the Hon. Michael M. Fahy, JP, Minister of Tourism, Transport & Municipalities, said: "We continue to operate our existing airport facilities, which are deteriorating on a daily basis and have outlived their life expectancy, and we further compromise our reputation to serve the customers who keep our island afloat economically.  We're not just designing an airport.  We're building Bermuda's future.
"The design not only brings Bermuda's airport facility up-to-date operationally and aesthetically, but the modular approach means it can adapt to future needs and further expansion, such as additional gates for increased airline service.  We're not only using current materials and technology, but we're also thinking ahead to Bermuda's new era as an international tourist and business destination. I would like to thank Aecon for developing such a creative design that also represents Bermuda and who we are as a people.
"This airport belongs to the people of Bermuda and should be a monument to our vision of who we are and where we're going as a country that relies so much on travel."
After recommendations in the 2006 Master Plan established that it is more cost-effective to build a new terminal, rather than trying to retro-fit solutions to the existing structures, Aecon undertook comprehensive consultations, which included many meetings with the community to discuss the Bermudian sense of place and adjust as necessary to address feedback. 
Martin Zablocki, President and Chief Executive Officer, CCC, said: "Every CCC contract comes with a guarantee of contract performance, fully backed by the 'AAA' rated Government of Canada. This is the Government of Canada's assurance that the contract will be delivered in accordance with the agreed contract terms and conditions, including timelines, quality and costs. Cost overruns can be a huge issue in large infrastructure projects, but CCC's involvement will help ensure the people of Bermuda are provided with a world-class international airport, completed on time, and on budget."
Steve Nackan, President, Aecon Concessions, said: "This design phase marks an important milestone in the project's progress as it represents a shared vision resulting from months of collaboration and consultation with community stakeholders. We will now move the project concept to the next level and prepare for financing. We see, as do many jurisdictions like New York who are redeveloping their airports, how investing in infrastructure projects like this can help shape a destination's image and stimulate the economy."
Aecon Group worked hard to ensure that costs were contained and priorities were aligned without compromising standards for a world-class facility. Aecon also will help introduce ancillary activities and businesses that are consistent with the safe, secure and efficient operation of the airport to create a diversified revenue stream that will help pay for the project. 
Bill Hanbury, CEO of the Bermuda Tourism Authority, said: "Bermuda has been fortunate to see reinvigorated interest in tourism, with air arrivals in the first quarter up 14 per cent on last year.  But to meet growth objectives, we need to make investments in our product that will demonstrate that the island is a solid bet for airlines.  How we look and how we operate to competently accommodate and adapt to ever-changing industry standards is vital to our success.  As people step off the plane they should see all that Bermuda has to offer, and they should leave with a positive, lasting impression that will keep them coming back."
This project would generate hundreds of new jobs and has already employed a number of local companies to consult on various aspects of the design phases. 
As a requisite to financial close, after stakeholder consultation, an Environmental and Social Impact Assessment including socioeconomic issues will be completed.
The redevelopment of L.F. Wade International Airport is being advanced under a development agreement between the Governments of Canada and Bermuda. The Canadian Commercial Corporation (CCC) is a Crown Corporation for the Government of Canada and brings expertise in international contracting for complex purchases and the experience to select highly capable suppliers, such as Aecon. More updates about the L.F. Wade International Airport redevelopment project can be found on www.gov.bm and on Facebook at www.facebook.com/AECONBermuda.
About CCC
The Canadian Commercial Corporation is the Government of Canada's international government-to-government contracting organization. A Crown corporation established in 1946, CCC helps governments around the world acquire goods, services and expertise available for export from Canada. All contracts signed with CCC come with a guarantee, backed by the Government of Canada, that the contract will be performed according to the agreed terms and conditions. In 2015-2016, CCC was active in seventy counties, working with one-hundred-and-forty-five Canadian companies to provide government buyers with Canadian solutions and expertise.
About Aecon Group Inc
Aecon Group Inc. (TSX: ARE) is a Canadian leader in construction and infrastructure development providing integrated turnkey services to private and public sector clients through its Concessions division. Aecon has successfully completed large-scale projects such as the Quito International Airport, the Cross Israel Highway and Toronto's Pearson International Airport.  
Aecon is a pioneer in Public Private Partnerships (P3). For more information, please visit www.aecon.com or follow us on Facebook at AECONBermuda.