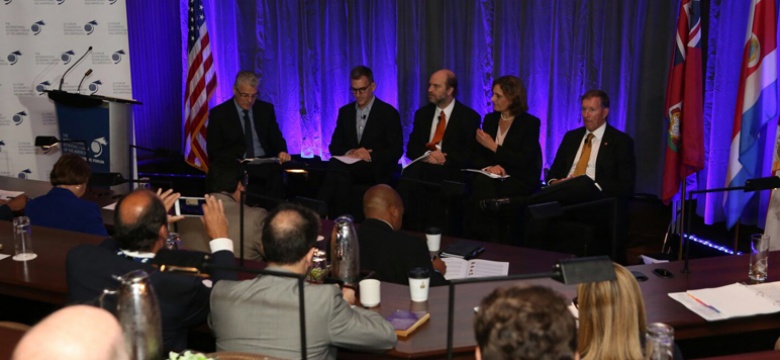 Earlier today (April 19), Premier Michael Dunkley addressed attendees at the 7th Edition of the World Strategic Forum (WSF) in Miami.
The public will be aware that Premier Dunkley was invited to participate in the WSF by the International Economic Forum of the Americas (IEFA), a global organization whose mission is to promote the exchange of open dialogue on the major current economic issues.
 "Mastering Change, Reigniting Growth", is the overall conference theme.
And as a panelist, the Premier joined business leaders for the topic of "Cultivating an Ecosystem of Entrepreneurship".
The forum discussed start-ups and small to medium sized enterprises (SME) in emerging economies; entrepreneurial activity; innovation; productivity growth and employment.
During his presentation, Premier Dunkley touched on several areas including Bermuda's reputable and resilient financial services industry.
The Premier told attendees, "Our history has been defined by our ability to adapt and succeed in an often challenging and turbulent world. We've had to be nimble enough to adjust and change to reignite growth, and this has been the case in recent years. Our resilience today owes much to our strong and stable financial services industry, which is led by an impressive group of highly accomplished professionals. And, as a respected and trusted financial centre, Bermuda is in prime position to continue delivering highly sought after financial services to business sectors such as aircraft and ship finance, reinsurance and alternative risk management finance."
The Premier also specifically highlighted the impact the 35th America's Cup has had in cultivating an environment of innovation, growth, employment and entrepreneurial activity.
Premier Dunkley said, "We are just a little over a month away from welcoming tens of thousands of visitors to our shores for this major sporting spectacle. The America's Cup offers an unparalleled opportunity for Bermuda to shine on the world stage and to demonstrate our organizational competence, our maritime heritage, our renowned hospitality and Bermudian pride. Preparations for the America's Cup have seen:
The formation of new businesses;
A revival of our tourism product;
The involvement of more than 40 construction and professional services companies;
More than $22 million spent in 2016 by the six America's Cup teams; and
A local business boom in retail, transportation, IT, communications, real estate, marina infrastructure and hotel improvements.
"All of these developments are benefiting the community through job creation, rising activity and optimism. Our West End Development Corporation (WEDCO) estimates that roughly 500 jobs were created to support the restoration and preparation of our historic Royal Naval Dockyard - site of the America's Cup Event Village. Additionally 50 percent of the contracts were awarded to small or medium sized businesses. The relocation of nearly 300 America's Cup participants, from sailors to administrators, has also helped drive the economy forward."
The Premier continued, "One of our priorities as a Government is to ensure that entrepreneurs and small and medium-sized businesses benefitted from this influx of activity. The Bermuda Economic Development Corporation, a government funded entity, has assisted by providing business advice to support and guide small businesses and entrepreneurs to perform successfully. With the America's Cup, the BEDC has accelerated its support for businesses. They have assisted in getting new businesses off the ground for budding entrepreneurs as a result of the America's Cup.
"They are providing support by extending short-term loans to small and medium sized businesses to help them meet the increased demand for products and services and to pursue opportunities. The BEDC's Micro Loan programme has been very effective by providing its clients with access to time-sensitive financing needed to purchase goods, services, and/or capital items directly related to generating business revenue.
"We consider this to be a sensible and effective way to help business owners start, sustain and grow their business operations. Ultimately, as a Government, our priority remains focused on creating an environment in which Bermudian-based businesses – large, medium and small – can thrive.
"We are proud of our work to navigate challenging conditions at home and abroad. We also recognize that if Bermuda is to continue to be successful, we must continue to stay abreast of change, to be nimble in managing it and smart in developing it."
The Premier's fellow panelists at today's discussion included:
Michael Schlein: President and Chief Executive Officer, Accion; and Chairman, New York City Economic Development Corporation.
Gonzalo Rivas: President, National Innovation Council of Chile (CNID).
María Helena Jaén: Distinguished Chair Professor and Academic Director, Observatorio SCALA, Universidad de los Andes School of Management; and
Varelie Croes: Founder and Chief Executive Officer, The Liv Group.
While at the conference the Premier met with various business leaders to discuss matters of interest to Bermuda. He met with Arnold Donald, President and Chief executive officer of Carnival Corporation, as Bermuda is considered a highly regarded cruise destination. The Premier said that he was pleased to meet with Mr. Donald and his colleagues who expressed an interest in strengthening the relationship that Carnival enjoys with Bermuda and a high level discussion took place on how Carnival's relationship with Bermuda could be improved. 
The Premier also met with Mr. Mark Lunt, principal real estate and hospitality, Ernst and Young, which the Premier said was very productive. "Ernest and young has had a strong footprint in Bermuda for many years and the renewed their commitment to assist Bermuda as the country continues its work to strengthen the economy", said Premier Dunkley.
The World Strategic Forum strives to foster the exchange of information, to promote free discussion on major current economic issues and facilitate meetings between world leaders to encourage international discussions by bringing together Heads of State, the private sector, international organizations and members of society.