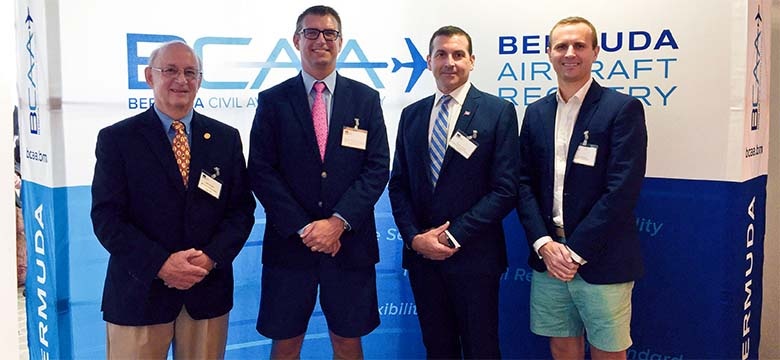 Remarks by Senator the Hon. Michael M. Fahy J.P.
Good afternoon and welcome to AeroPodium's 6th Annual Offshore Aircraft Registration Summit. And for those of you who have flown in for this event, welcome to Bermuda. 
The Aircraft registry in Bermuda has been in existence for nearly nine decades and we are proud of the status it has achieved as a leading offshore registry.
But we are always looking to do better.
Participating in conferences like this provides opportunity for a cross-pollination of ideas as we all seek to deliver to clients the best possible service.
As you will know, we've just made significant changes.
This is the first event since the October 1 transition of the Department of Civil Aviation to the semi-autonomous Bermuda Civil Aviation Authority (BCAA).  I am proud indeed of this Government's commitment to the major change the BCAA represents.
So, this week we are displaying new branding and celebrating a new direction in the history of Bermuda civil aviation. And we are happy to have you here to help us do that.  In my view the BCAA will bring about a bigger, better and more competitive Bermuda registry by being largely outside the clutch of Government bureaucracy. As you already know, Bermuda's Aircraft Registry is extensive and ranks 10th in size when compared to the 191 signatory States to the Convention on International Civil Aviation. And whilst our recent transition to an Authority is something that many of our competing jurisdictions have already accomplished - and whilst we may have taken a little longer to get there - I am confident that the Bermuda registry will become an even more respected registry and increase in size accordingly.
As in past years, this conference promises to be a very informative event, with discussions on everything from reasons for registering an aircraft offshore and the process to do so, to aircraft financing.
The conference has a wide variety of other topics involving legal and customs issues to safety and inspection matters.
I take this opportunity as the Minister with oversight of the BCAA to thank the sponsors of this event, especially the Bermuda Business Development Agency and the newly formed BCAA, along with
Longtail Aviation
Conyers Dill & Pearman
Consolidated Bermuda
Beesmont
Primus
Estera
Cox Hallett Wilkinson Limited
ASW Law
CAE
and the Registry of Aruba
I trust this will be an enjoyable and informative event and hope you will find good reason to fly back to Bermuda, soon.  Please enjoy the networking opportunities and the remaining panels and lectures.
Thank you very much.