Abandoned Boats to be Removed
Wednesday, February 14, 2018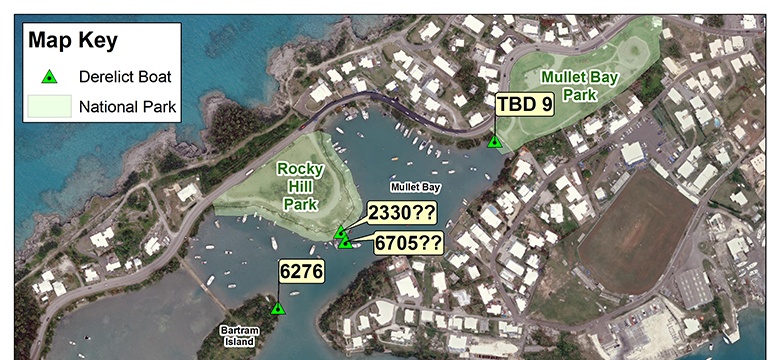 The Department of Environment and Natural Resources (DENR) and the Department of Marine and Ports Services are advising the public that abandoned boats will shortly be removed from the water and disposed of.
Earlier notices have already been published for the 'unknown' abandoned vessels (where boat owners are unknown), which are located in the Ferry Reach, Mullet Bay, Coney Island and Mill's Creek areas.
This current notice is to inform the owners of some of the 'known' abandoned vessels (where boat owners are known) in these areas that the Government will also be taking ownership and disposing of them.  If you are the owner of any of these boats, you have until March 8th to remove your vessel from its current location and relocate it to a site which does not contravene the provisions of the Merchant Shipping Act 2002, the Marine Board Act 1962, the Regulations or any other law of Bermuda.
Should you wish to voluntarily agree to allow the Ministry to take ownership of the vessel and to dispose of it at no cost to you then please complete a consent form and return it to the Department of Marine & Ports Services or the Department of Environment & Natural Resources.  You can contact the Department of Marine & Ports Services to obtain the consent form.
However, if you do not respond by the 8th March, your vessel will become Government property and will be disposed of and the costs incurred as a result of said disposal may be payable by you.
This notice applies to:
The owners of 'known' abandoned boats that have already been contacted directly by the Department but have yet to sign the consent form.  These include: #5522 'Song of Freedom'; #1545 'The Josrine McCormick'; #N349 'Move It'; #10751 'Baby Striker'; #13136 'Mutual Fun'; #12096 'Ionaalso'; #6705.
The owners of 'known' abandoned boats that Government has not been able to contact.  These include: #5887 'Endeavor'; #1913 'Dan-O'; #5365 'Pipe Dream'.
It is important to note that this notice does not apply to the owners of the 'known' abandoned boats who have already come forward to sign the consent forms prior to disposal of the boats.  
Pursuant to the Marine & Ports Authority (Dumping) Regulations 1967, the Minister of Transport and Regulatory Affairs may direct the disposal of any vessel which has been abandoned and is likely to become unsightly or impedes the free navigation of the territorial waters of Bermuda.  In doing so, the Minister may direct that the person responsible for the abandonment of the vessel be liable for the costs associated with the disposal of the vessel.
For more information, please call 239 2356.