Minister of Finance Reports on 2017/18 First Half Fiscal Performance and Provides Updated Economic Review
Wednesday, December 6, 2017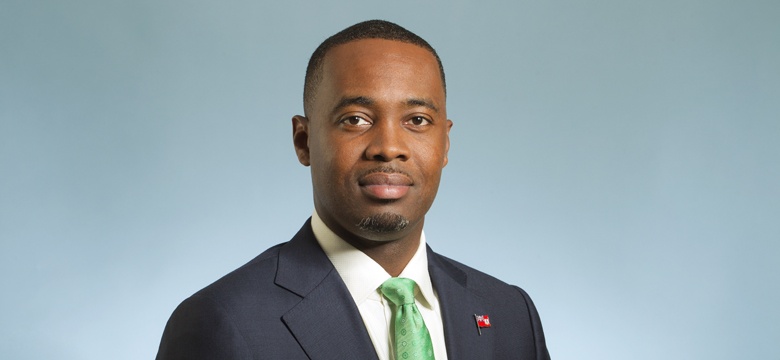 The Ministry of Finance today reported on the 2017/18 First Half Fiscal Performance and provided an updated Economic Review for 2017.
2017/18 First Half Fiscal Year Performance:
The headline numbers for the 2017/18 National Budget were: a revenue target of $1.04 billion; current expenditure of $1.11 billion, including debt service; capital expenditure of $67.5 million; and a projected deficit of $134.7 million.
Total revenues for the six months ending September 2017 are $31.2 million (6.3%) above September 2016. This is due to higher collection in Customs Duty, Payroll Tax and Stamp Duty, offset by lower collections in Passenger Tax and Civil Aviation receipts due to the privatization of the Airport and the transfer of the Department of Civil Aviation out of the Government. 
In general total revenues are tracking higher than budget estimates and the strength in Payroll Tax and Customs Duty receipts increases the chances of meeting the total revenue target of $1.042 billion for the current fiscal year.
Custom Duties are tracking 10% above budget estimates and $10.9 million above 2016 receipts, while payroll tax is tracking 5.8% above budget estimates and $27.2 million higher than 2016 receipts. 
Current expenditures, excluding debt service, for the period ending September 2017, are $6.4 million lower than in September 2016; Government's current account spending to date is lower during this fiscal year when compared to the same period last year mainly due to lower professional services offset partially by increases in grants and contributions in relation to the Bermuda Airport Authority and the America's Cup.
Overall, current expenditures, excluding debt service, are presently tracking 0.8% or $3.6 million above budget estimates. The $465.4 million spent in the first six months of 2017/18 represents approximately 50.4% of the total current account budget of $923.5 million.
Capital expenditures for the period ending September 2017 are $1.1 million lower than in September 2016. This is due to decreases in the capital grant for America's Cup, which was completed in June 2017. 
Interest expenses are equivalent to 2016; 
Excluding debt service, the Government recorded a $57.6 million current account surplus for the first six months of the year;  
For the first six months of 2017/18 Government incurred a total deficit of $63.4 million compared to a deficit of $100.2 million in 2016. This deficit was financed by a Credit Facility and working capital. 
Gross debt at the end of September 2017 stood at $2.515 billion. Net of the Sinking Fund debt was $2.428 billion.
Bermuda Economy 2017: Updated Economic Review
Summary Economic Indicators: Updated Economic Review 2017
*Comparative data over the first half of calendar year 2017, except when otherwise indicated.
The year to date (September) average Consumer Price Index was 2.0% and the 12 month average rate was 1.9%. The primarily causes of inflation during the last twelve months were increased costs of airfare and fuel prices in the Transport & Foreign Travel sector, the higher costs of electricity and increases in the average cost of tuition fees for local schools and overseas colleges.

Imports increased by 25.7% in the first two quarters of the year to register at $604 million. The growth was primarily attributed to the imports of finished equipment which grew by $61.0 million or 39.3% when compared to the first six months of 2016. These imports were related to the America's Cup sailing event which took place in the second quarter of 2017. Other categories that contributed significantly to the positive results were transport equipment and machinery.  

Air arrivals to September 2017 grew by 10.0% while the number of cruise passengers increased by 8.4% over the same time period.  Total visitor arrivals were up 9.0% versus a year ago.

Total visitor spending in the first three quarters rose by $55.3 million or 21.9% settling at $307 million.

Some 362 new international companies and partnerships were registered in Bermuda during the first six months of 2017 representing a 9.3% decrease compared to 2016 registrations of 399.

Total value of new construction projects started for the first six months of this year increased over six times the amount of $67.8 million recorded in the same time period in 2016. In the second quarter, the Airport Redevelopment and St. Regis projects began that are worth over $500 million in total.  

The estimated value of construction work put in place was $51.0 million, a decline of 18.4%. The majority of the decrease can be attributed to a reduction in the levels of work performed on residential properties, offices, shops and warehouse building projects.

Employment income grew by $54.2 million to $1.78 billion, an increase of 3.1%.

Total retail sales for the first nine months of 2017 increased by 3.2% or $28.8 million to register at $915.3 million.

Bermuda's Balance of Payments over the first two quarters of 2017 recorded a surplus on the current account of $462 million, which was $149 million more than the corresponding surplus in 2016. The increase in the current account surplus was mainly due to changes in the primary income account, where there was significant growth in net investment income received from non-residents in the amount of $241 million year over year.

Based on figures released by the Bermuda Monetary Authority, Bermuda's money supply expanded by 2.4%, or $171 million, year over year at the end of the second quarter of 2017. The money supply grew mainly due to higher inflows of customer deposits and an increase in notes and coins in circulation.

The Banking sector's total assets declined by 7.8% or $3.7 billion at the end of June 2017. The reduction was driven by a year over year decrease in investments and loans in the first quarter and a decrease of interbank deposits in the second quarter.

Loans & Advances fell by 7.8% or $1.4 billion over the first two quarters of 2017 while customer deposits also contracted by 20.3% or $1.8 billion for the same time period.
This year's economic data, thus far, is consistent with the expectation in the 2016 National Economic Report of Bermuda and the Ministry of Finance's own macroeconomic forecasts.  As most of the economic sectors are contributing moderate growth, led by construction, tourism, employment, retail sales, with a low level of inflation, GDP in 2017 is projected to expand steadily. The Government's efforts to create new economic pillars and enact policies to grow Bermuda's economy, once fully realized, should provide sustained economic growth through the medium-term.