Department of Workforce Development Apprentices Receive Their Awards
Tuesday, November 21, 2017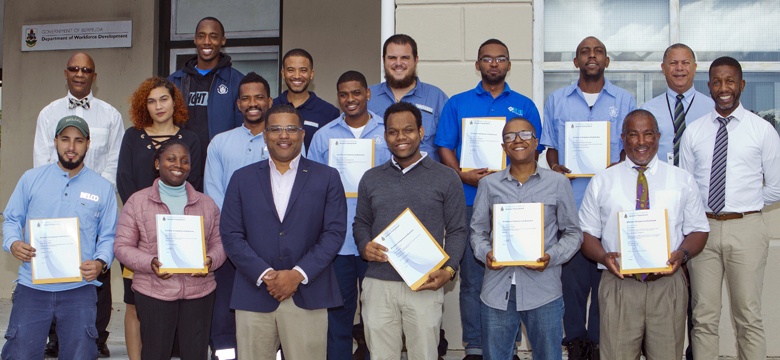 The Minister of Education and Workforce Development, the Hon. Diallo Rabain JP, MP recently presented certificates to apprentices who have completed training with the assistance of the Department of Workforce Development and their employers. 
The Department's Training section works with local employers, unions, the Bermuda College and industry partners to ensure quality professional, technical and vocational training is available to all Bermudians. 
This recent group of 27 graduates work at BELCO, Fairmont Southampton, Pinks Hair Salon, Miles Market, Bermuda Motors Ltd., BAC Universal Electric and the Public Works Department.  Two students completed independent study in power engineering and small engine repair.  Many of the students like Ciara Muat, who works at Pinks Salon, completed her training at the London Hair Academy in the United Kingdom. 
Minister Rabain congratulated the students for their commitment to complete their respective courses and training.
Minister Rabain said: "Apprenticeships are one of the most respected and effective methods of training and career development. The Department is pleased with the continued support of local business and encourage businesses to contact the Department to discuss opportunities for internships and training."
For more information on the training and apprenticeships please contact the department of Workforce Development at 297- 7714 or www.dwd.bm [1]