Heritage Month & BDA Day Parade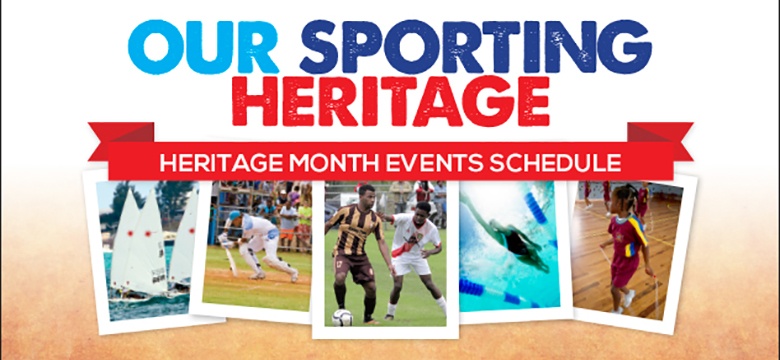 Good morning,
I am extremely pleased to have this opportunity to share with you some of the events that have been planned in celebration of Heritage Month 2017 and also remind the public of this year's Heritage Month and Bermuda Day Parade theme - "Our Sporting Heritage". 
This year's theme invokes a celebration of Bermudian sporting heroes and Bermuda's favourite sports and games.
More than simply a past-time for children, sport has always been an opportunity for demonstrating determination, teaching teamwork, and exemplifying excellence. From the fierce loyalty to Cup Match teams, to the rallying unity to support a Bermudian Olympian, Bermuda has continued to build a sporting heritage to be proud of.
For the month of May, the Department of Community and Cultural Affairs has either organized or supported a number of events in recognition of Heritage Month. Some have passed and were enjoyed by many, while some are still to come.
Hopefully many of you will have seen the advertisements in the newspaper and heard the radio interviews listing all of the events.
To give you a flavour of the offerings, I will share a small selection from the dozens that are listed:  a seniors craft show, guitar festival, piano festival, painting workshops, various art show openings, cooking demonstrations, film screenings, fun runs, book launches, happy hours at Bermuda's picturesque forts, historical lectures, fundraisers, and historical tours.
In fact tonight is one of the events about which I am most excited. Tonight will be the official launch of The Stories We Tell: Bermuda Anthology of Science Fiction, Fantasy and Horror. This is the first book of its kind in Bermuda, which incorporates science fiction, fantasy and horror elements. This is a welcomed addition to the collection of new writing by Bermudians that has emerged from the Department of Community and Cultural Affairs, primarily as an offshoot of its Writer in Residence Programme.  The Department should be commended for the strides they have taken in supporting Bermuda's writers by compiling works, from many of our literary talents, into anthologies such as this to be enjoyed by both residents and tourists alike.
On another note...one of the Heritage Month events which took place recently with much success was the first ever Quest for the Best song competition, produced by Intense Mas and sponsored by the Department of Community & Cultural Affairs. It was won by local singer/songwriter Cush Evans with his song 'Run Road'.
The soca song competition received over 20 entries, with notable original submissions from Bermudian artists based locally and overseas. Many of the submissions have been receiving rotations on local radio stations. 
Mr. Evans won the grand prize promotional package worth over $5,000, which includes CD production, worldwide radio airplay, social media promotion and much more. I wish Mr. Evans much success with his musical career.
We are also very excited this year about our partnership with the Chewstick Foundation which has seen the creation of a public art project at Gombeys at Clearwater that took place on May 6. There are several other events coming out of this partnership such as the Chewstick Foundation Heritage Showcase on May 20 and the Chewstick Griot Session on May 25.
We are also excited about our partnership with Hub 1 Tourism which has events running through the entire summer, including Knot the Art Walk and events during the Tall Ships visit.
I also want to mention the weekly busking entertainment that we have created for Heritage Month, in partnership with the Corporation of Hamilton. It is yet another wonderful way to showcase the plethora of talent we have here in Bermuda.
To view a full schedule of Heritage Month events go to: www.communityandculture.bm [1]
One of the most popular events on Bermuda's cultural calendar is the Bermuda Day Parade, which will take place on Wednesday, May 24th starting at 1:30 pm.
I now would like to share the Parade route with our viewing and listening audiences. The Bermuda Day Parade will move along Marsh Folly Road and continue right through to the top of Cedar Avenue. The Parade then turns left onto Church Street, takes a right down Court Street, a right along Front Street, and finally up Queen Street. Groups will be able to give a final performance in City Hall car park. Large trucks will turn left on to Church Street and continue west. Floats will make a right turn on to Church Street, park in front of City Hall and remain there on display throughout the afternoon.
I am told by my staff at the Department of Community and Cultural Affairs that they have inserted a 'party' mid-parade with the Passion Bermuda soca truck to keep the energy high! Also, this year the Gombeys have requested that they return to close out the parade, as was traditional in the past.
For those of us who have family and friends abroad, please tell them that CITV will be streaming live coverage of the Bermuda Day Parade on CITV - Channel 102 on WOW and Channel 2 on Bermuda Cablevision. So Bermudians can gather and have their Bermuda Day party where ever they are in the world, yet still feel connected to home. We will also stream live on Facebook. 'Like' the Government of Bermuda's Facebook page to watch the parade this way!
This year we are asking members of the public to share their favourite holiday moments on social media by using the hashtags #BermudaDay and #BermudaCulture. We invite the public to also follow the Department on Facebook, Twitter, and Instagram at @BermudaCulture to see highlights of the events.
Additionally, this year we have partnered with Bermemes for an upcoming video campaign highlighting behind-the-scenes looks at getting ready for Bermuda Day and Bermudian pride.
It is very exciting that so many groups have decided to participate this year. I recognize that it can be incredibly expensive for the participants that have to get costumes and decorations; and I really encourage our residents to rally around those individuals who decide to participate.
As the Minister responsible for culture I am very grateful to the staff at the Department for all of their hard work, ingenuity, resourcefulness and creativity. I would especially like to acknowledge the work of the Cultural Affairs Programme Manager, Carlita Lodge and Event and Programme Coordinator Clyde-A-Mae Tucker as well as the Heritage Advisory Committee.
Whether people come to the Bermuda Day Parade, go swimming, boating, picnicking or relax at home I would like to wish our residents and visitors a safe, happy and fun-filled day.
Check out the exciting events planned for Heritage Month [2]!